People on War unfolds first-hand experiences
In 1999, the International Committee of the Red Cross (ICRC) launched a research project called People of War. It was to mark the 50th anniversary of the Geneva Conventions. Over 20,000 individuals, including both civilians and combatants, were asked to describe their personal war experiences.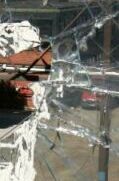 The survey was carried out in 17 countries. In 12 of them, including Afghanistan, Cambodia, Israel, Nigeria and South Africa, the respondents had recently or were currently facing the consequences of warfare. The five countries of comparison were France, Russia, USA, Great Britain and Switzerland. The survey was conducted via face-to-face interviews and structured questionnaires by Greenberg Research Inc.
The People of War reports are available at the ICRC home page. Questionnaires can be viewed in the "Global Report" section.
Survey's quantitative data has been archived by SIDOS, the Swiss Information and Data Archive Service for the Social Sciences. The data can be ordered for scientific purposes at the cost of USD 100.