Eurobarometers enable research on current issues
Differences in Internet Use in Western Europe
Social scientists reject many an interesting research topic because they lack the resources to conduct their own survey interviews. This need not be a problem as they can use already existing and easily accessible, but still relevant data. Dr. Kimmo Grönlund illustrates how current phenomena may be studied utilizing archived data, taking Flash Eurobarometers as an example.
Calculating the digital divide
Information society issues are regularly charted in Eurobarometers. Thus they can be exploited to study Internet use from the perspective of the digital divide. The digital divide is a concept that describes unequal access to new information and communication technologies (ICTs) between countries and persons. Political scientist Pippa Norris (2001) defines three dimensions according to which people can be divided into those who are digitally literate and those who are not. Norris's dimensions consist of a global, social, and democratic division.
Global digital divide
According to an estimate by Nua.com, a company specialised in Internet demographics, there were 580 million Internet users in May 2002. However, less than 10 per cent of the world's population has access to the Internet and most users live in the USA, Western Europe or Japan. Charting the digital divide and its reasons is relevant from a social science point of view, partly because new technology offers new opportunities for social networking or democratic decision-making. Flash Eurobarometer 103 can be utilized to compare the amount of Internet users in different EU countries.
Chart 1. The percentage of Internet users aged over 14 in Western European countries, summer 2001.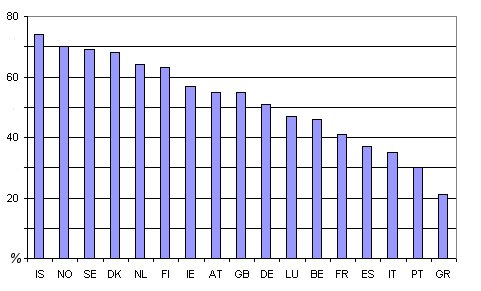 Source: Flash Eurobarometer 103.
Note: See ISO 3166 Standard Country Name Codes.
Social divide in digital literacy in Finland
Let us take a look at the social divide of Internet use in Finland. According to Flash Eurobarometer 88, October 2000, age is the most decisive factor. Practically all Finns aged between 15 and 24 use the Internet. Occupational status is another significant factor. Almost all students and executives access the Web, whereas less than five per cent of retired women use the WWW.
Democratic divide: Finns are eager users of online public services
The democratic dimension of the digital divide has not been measured in a comparative way in international surveys. However, there are some questions that can be considered relevant. In Flash Eurobarometer 88, it was asked whether EU citizens had contacted public administration through the Internet.
Accessing public administration through the Internet is most common in Finland. Especially women in Finland are eager users of governmental websites. In comparison, the French and the Portuguese do not contact their public administration through the net. The possible digital democratic divide between countries is not necessarily similar to the differences of Internet use in general. For example, in Ireland, where more than half the population use the Internet, only one Irish user in three browses governmental websites.
References and further information