European Social Survey Data Freely Downloadable
Helena Laaksonen    
10.11.2003
The ESS (European Social Survey) is a biennial multi-country survey covering more than 20 nations. The data from the first survey round were published on 22 September and included data from fifteen countries. The remaining countries were added to the second release published in November 2003.
ESS home pages contain a link to the ESS data website at the Norwegian Social Science Data Service (NSD). Researchers and teachers can download the data from this NSD site. On offer are the integrated ESS data and country-specific data in SPSS and SAS formats. Downloading requires registration but there are no charges.
Interviews in the autumn of 2002
Face-to-face interviews for the ESS were carried out in 23 countries. Finnish data were collected by Statistics Finland in the autumn of 2002. According to Heikki Ervasti, the national Co-ordinator for Finland, the data collection was successful.
- We were able to reach the target response rate, though it turned out to be too high for some countries. New methods were tested in the data collection in, for example, question design and the effect of interviewer characteristics. More information on the functionality of the new methods will be available when the data have been analysed.
Comparisons over time and across countries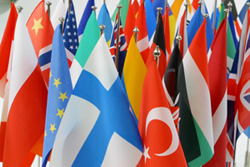 ESS provides ample material for social scientists and humanists from different fields. Data are collected every two years and a set of core questions will be replicated in order to enable time series analysis on opinions and circumstances. Replicated questions cover, for instance, media usage, social and public trust, political interest and participation, political opinions, well-being, political and social values, social and individual networks and the socio-demographic background of the respondents.
Round 1 of the survey series contained two 'rotating' modules: the first one covered opinions on immigrants and asylum seekers and the second citizenship, participation and democracy.
Modules for the second round
The second round data will be collected in 2004. The research areas for the Round 2 rotating modules were selected from a number of proposals. Heikki Ervasti says that there will be three rotating modules concentrating on 1) Family, work and well-being, 2) Health and care seeking and 3) Economic morality in Europe: market society and citizenship.
ESS web pages provide a wide range of information, including the English version of the first round questionnaire. The data website at NSD provides information on nationally important events in each participating country at the time of data collection.