National Attitude Surveys on Low Profile
Helena Laaksonen    
10.11.2003
Yhdyskuntatutkimus Oy is not as well known to the public as the bigger research companies. However, it has gained visibility with its national attitude surveys, which include Finnish national attitudes and EU attitudes survey series. Both series are archived at FSD, each survey shortly after the main reports have been published.
Yhdyskuntatutkimus has been operating for nearly 20 years and has always kept a low profile. Even though the company has not sought publicity, word-of-mouth recommendations have ensured plenty of customers for this two-man team. Long-standing customers include EVA (The Centre for Finnish Business and Policy Studies) and the energy company Fortum. Moreover, Yhdyskuntatutkimus co-operates closely with other research organizations like Gallup Finland (Suomen Gallup Group).
Wide variety of clients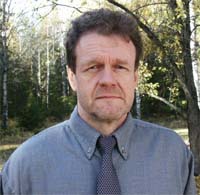 Research projects of various universities provide a lot of work for the company. Students preparing their theses are other frequent customers.
- The wide range of customers means a lot of variety in project size as well as client type. Sometimes the situation has been a bit delicate when I have had two simultaneous research projects going on, one for the employees' union and the other for the employers' organization of the same sector, reveals Pentti Kiljunen, the founder of Yhdyskuntatutkimus Oy.
The research done by the company belongs to the area of social sciences and Kiljunen says they are more interested in the relevance of results than economic gains. Yhdyskuntatutkimus might even be accused of some kind of underpricing.
- The price level in Estonia is much lower than in Finland but we won even Estonians once in a price competition, much to the amusement of our colleagues, he jokes.
From mail surveys to diagrams
In spite of its small size, Yhdyskuntatutkimus is a full service company. Data are collected mainly through mail surveys. Clients are offered all kind of services: data collection, processing, storing and analysis, survey planning, questionnaire design, reports and the visualisation of results. The company specializes in graphic presentation.
- We have provided tens of thousands of diagrams to certain research institutions, Kiljunen estimates.
Fresh data to the data archive
Yhdyskuntatutkimus strives to preserve all data produced by the company. Kiljunen thinks FSD has made the task easier by archiving key data sets. The company is then relieved of the necessity to keep their existing data up-to-date in the rapid development of formats and software. Data sets are deposited at the archive shortly after the main reports have been published.
- Of course it is sometimes bothers me to deposit material that I could still use myself, however I do not feel I am losing anything, he states. Data collection is expensive and only a part of the material is ever analyzed. It would be a waste of time and money if the data were not re-used.