IASSISTers in America
IASSIST 2004 Madison, Wisconsin, 25 - 28 May 2004
Mari Kleemola  |  Helena Laaksonen 22.9.2004
This year, the International Association of Social Science Information Service and Technology celebrates its 30th anniversary. In the IASSIST 2004 conference in May, the organisation turned towards the future via the past with the theme Data Futures: Building on 30 Years of Advocacy. The conference was held in Madison, Wisconsin, in the heart of America's dairy country. About 200 delegates attended.
For new members, participating in this particular conference provided a good opportunity to gather information on the activities and history of the association. Many ex-presidents of the association gave presentations about their experiences during the leadership, and photograph collections of the IASSIST activities over the years were shown.
Three FSD delegates attended. Jouni Sivonen presented the archive's new operational TiipiiII data base, which was implemented this year. Its user interface was designed in co-operation with two CS students from the University of Tampere. Mari Kleemola attended the DDI Alliance meeting held in connection with the conference. Helena Laaksonen attended in connection with the Madiera project of European data archives.
Plenty of information on Madiera
Many representatives from European data archives attended the conference. The work and results of the Madiera project were presented in several different sessions.
Nesstar Ltd, involved in the Madiera, presented the Nesstar online search interface and server, and the Nesstar Publisher program, a tool for publishing documentation and metadata on data. Nesstar User Group Meeting proved to be very popular, and the hot seminar room was so packed out that not only seats but even floor space run out. Fortunately, those with further questions were able to get answers at the Nesstar information stand later.
Conference sessions presented other projects and technical solutions aiming to ease the access to survey data and improve the usability of data. Most presentations can be found on the Web.
Dairy stuff
A Finn living in Tampere feels at home in Madison. Just like in Tampere, the centre of the town is situated between two lakes, and even the number of inhabitants is roughly the same, about 200 000.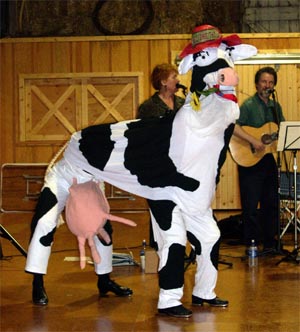 What surprised us was how genuinely friendly and helpful Madisonians were, even when no tip was expected. The weather provided a less pleasant surprise - tornado warnings were given daily as thunderstorms swept over the Midwest, at times near Madison, at times farther away.
Madison takes full advantage of its image as the capital of America's "dairy country": tourist products connected to cows and dairy products were sold everywhere. A popular local beer is called Spotted Cow and local football fans support their team by wearing cheeseheads. Conference participants were introduced to farm tourism. We were transported in school buses to Eugster's Farm Market for dinner and saw, among others, a spotted cow tap-dance.
The next IASSIST conference will be held in Europe. The theme in Edinburgh, Scotland will be Evidence and Enlightenment.