Change in Finnish Attitudes Towards Immigrants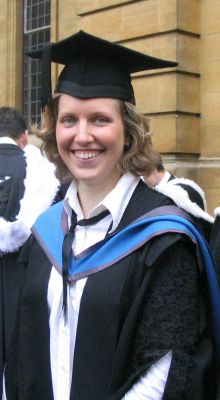 Elina Kilpi used data from the EVA Surveys on Finnish Values and Attitudes in her thesis Change in Finnish Attitudes Towards Immigrants. She graduated from the University of Oxford with a MSc in Sociology in September 2006.
Secondary use of data favoured in Oxford
Secondary use of data is popular at the department of sociology of the University of Oxford. The department is well-known for its extensive quantitative studies and promotes the use of quantitative data. Most students who graduated last year used an existing dataset.
Elina Kilpi found her thesis subject on the Ethnicity and Nationalism course. She had originally planned another subject but encountered problems in accessing data.
- I decided to study changes in Finnish attitudes towards immigrants over the past 20 years. EVA surveys were the only survey series I could find that enabled studying this issue at the individual level.
She also studied macro level changes using statistics and newspaper material.
Finnish attitudes under the spotlight
The question, often repeated in EVA surveys, that Kilpi used in her thesis was If more foreigners worked in Finland, our country would benefit from the useful international influences they bring. She used regression analysis to study to which extent the respondent's occupational status, education, and the size of the resident's municipality affected attitudes.
She found that, despite an increasing foreign population, Finnish attitudes towards immigrants have become less prejudiced over the past two decades. At the individual level this change can be explained by rising education levels. Men and the unemployed tend to be more prejudiced than others. People living in towns and cities are less prejudiced than those living elsewhere.
At the macro level, the results show that changes in unemployment and in the number of non-European immigrants seem to have an effect on attitudes, as have newspaper articles focusing on immigrant numbers.
Positive experiences of secondary use
According to Kilpi, using archived data was not difficult. It took time to recode variables but that is an inherent part of data re-use.
- In fact, my only problem was to merge data from different years to a single file but this was mainly due to the fact that I'm not too familiar with all the features of the STATA programme. In addition, the survey series does not contain many questions on immigrants.
Kilpi thinks that the biggest advantage of the biennial EVA Surveys are repeated questions which allow comparison over time.
- Though it would have been nice to have annual data, she adds.