IASSIST 2006 Promoted Data Archiving and Statistical Literacy
Mari Kleemola & Tuomas J. Alaterä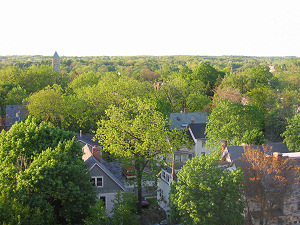 The IASSIST (International Association for Social Science Information Services & Technology) annual conference was held in May in Ann Arbor, Michigan. The conference brought together 250 data professionals, data producers and data analysts from around the world. Over 100 presentations were held, and the conference was jointly hosted by the Inter-university Consortium for Political and Social Research (ICPSR), the University of Michigan Library, and the School of Information. The 2006 conference theme was Data in a World of Networked Knowledge.
Incentives to archive data
One of the most interesting presentations in the conference was from Margaret Hedström, Professor at the University of Michigan. She and her research group had carried out a survey on factors that would motivate researchers to conduct secondary analysis of archived data or to deposit their own data.
Preliminary results show that researchers would use archived data more often if more datasets related to their research were available, if datasets were better documented, or if data archives provided more assistance with the use of data. Many respondents would like to have an opportunity to discuss the dataset with the person who had collected the data. This result is inconsistent with the view that one of the advantages of depositing data is that data collectors no longer need to answer enquiries about their data.
The respondents identified as benefits of depositing data that it saves other people from the need to collect data on the same subject, and saves the researcher from having to manage and preserve the data. Also the thought that deposited data would benefit many other researchers was regarded as a good incentive for depositing. Another good incentive was obligation: that depositing data would be mandatory for receiving new funding or a prerequisite for publishing a paper. Few researchers saw monetary compensation for depositing data as a good incentive. They tended to think it would be better to incorporate financial resources for depositing data into the overall project funding.
Statistical literacy
Another interesting theme in the conference was statistical literacy*, that is, the ability to read and interpret numbers. A statistically literate person is able to understand and read critically tables and graphs of rates and percentages.
As information is increasingly presented in statistical form in the media and in reports on which decisions are based, the ability to read tables and graphs has become necessary for both ordinary citizens and experts. Information is often presented in a concise form which inevitably makes the results more difficult to read. If the results are difficult to interpret or it is difficult to explain them verbally, there is always the danger that inadequate statistical literacy skills lead to wrong conclusions.
The Statistical Literacy Survey conducted in 2002 showed that college students, professional data analysts and college teachers needed practise in reading statistics. Statistical Literacy Project at Augsburg College has developed an interactive web resource which helps students to test their statistical literacy.
*As a concept, statistical literacy is related to quantitative literacy, information literacy and data literacy. Statistical literacy includes many elements of quantitative literacy.
More information on
» IASSIST 2006 conference
»  Incentives for Data Producers to Create Archive-Ready Data Sets project
» 2002 Statistical Literacy Survey
» Statistical Literacy Ratio Statement Validator