Targeting the Media Usage of the Elderly
Päivi Vännilä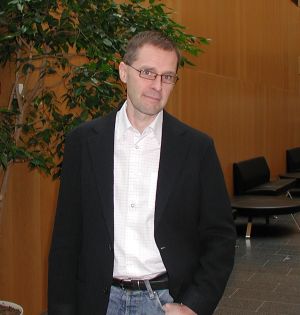 Almost all elderly people in Finland use the media daily. Pensioners are free to follow their own schedules, and their day often begins and ends with the media.
Ph.D. Raimo Niemelä says that elderly Finns tend to begin their mornings by reading the newspaper, but tastes differ as to whether to watch morning television programmes or listen to the radio. According to him, the media usage habits of the elderly are individual. However, they typically follow closely what is happening both in their municipality of residence and in their municipality of birth.
Raimo Niemelä's doctoral dissertation focused on the information behaviour of elderly Finns. One source for his dissertation was the 308 media diaries archived at the FSD (FSD1306: One-Day Media Diaries 2001). He also collected qualitative material from 319 Finns. The longitudinal study was conducted in 2001 and 2004, and the respondents were retired teachers. The research methods included interviews, questionnaires, sentence completion tests, and self-assessment tests.
Media usage is highly social
"Media usage is essentially connected to relationship routines. One could almost say that instead of studying the media usage of aged individuals, elderly couples should be targeted."
The elderly borrow and exchange different media materials with their neighbours and friends. Other social practices include responding to various questionnaires, participating in different competitions, engaging in public debate, recording programmes for friends, children, and grandchildren - and more recently, participating in web discussions.
"Current affairs, especially local news, are closely followed by the elderly, as well as health and welfare issues. In addition, those issues that have been important in the past continue to be subjects of interest in old age, and the educated elderly follow the developments in their own field of work even after retirement," he says. Raimo Niemelä studied the elderly who were living the so-called "third age" of their lives (i.e. being active in retirement). However, he says that the results could be different for the "oldest old" group.
According to Raimo Niemelä, everyday media usage can be a part of successful aging. Active approach towards life and living manifests itself in an openly critical attitude towards the media. Successful aging requires ability to adjust one's own media usage and, most importantly, to make choices.
Media as a part of successful aging
"Some of the respondents felt for instance that giving up television had increased their mental welfare. Instead of watching television, they listened to the radio and read newspapers and literature. In the evenings they might visit their friends more often. It turned out that many of those who were anxious about their habit to plop on the couch in the evenings had not done a conscious decision to watch television, however."
Media usage that activates the elderly is connected to their daily routines, diet, physical exercise and health, maintenance of language skills, meditating, economic activity, furnishing, and gardening.
"For the sake of mental and physical welfare of the elderly, new media formats must be actively developed. These formats should also utilise entertainment, and aim at encouraging the elderly to promote their own welfare." Of course, factual entertainment does not replace journalism, but according to Niemelä, results that are significant in view of national health are attained by appealing to the elderly with emotionally rewarding communication.
The elderly want to give feedback
"Aged people have time to participate. Some of them even respond to web questionnaires on a regular basis. They want to make their views and convictions known. In addition, the elderly frequently give feedback on different programmes and write Letters to the Editor."
Increasingly often, the elderly follow an interesting topic from one medium to another - for instance, a newspaper article or a television programme may point them to a web site. The elderly do not differ from other people in this respect.
The radio helped to find research material
Raimo Niemelä also took advantage of the media when conducting his research. By accident he heard how the editor of One-Day Media Diaries was interviewed on the radio. He contacted the Finnish Literature Society (SKS) and acquainted himself with the collected data, which consisted of texts people had sent. "The preliminary examination of the media diaries was one of the most exciting phases in the research project. Luckily, the material was already converted into digital form."
308 out of the total 1,500 media diaries in the material were selected to the research, using the respondents' year of birth as the selection criterion. This way Raimo Niemelä could test and validate the results received from a smaller material with a fairly large qualitative material. "The media diaries are a central part in combining different materials, researchers, theories, research methods, analyses and disciplines in my study," he says.
Some of the media diaries were superficial either because of the ready-made and at times too broad instructions, or because the only motive for compiling them was to get rewarded. Raimo Niemelä says that the diaries also included off-subject political and religious pathos. "However, the methodological challenges were connected to the multi-stage research design, not to the material received from the data archive as such."
Raimo Niemelä has completed his doctoral dissertation on information research in 2006. He worked as a researcher in the Department of Finnish, Information Studies and Logopedics at the University of Oulu in 2003-2006. At present he is working as a teacher of psychology in Kastelli Upper Secondary School, and as a part-time teacher and post-doc researcher at the University of Oulu. He has also published a series of psychology text books together with Karrasch, Lindblom-Ylänne, Päivänsalo and Tynjälä.