FSD Bulletin is the electronic newsletter of the Finnish Social Science Data Archive. The Bulletin provides information and news related to the data archive and social science research.



Finnish Social Science Data Archive
E-mail: fsd@tuni.fi


Smallness Is Relative – Experiences of Conference Assistant
The FSD research assistants and conscientious objectors also contributed in the success of the IASSIST conference in Tampere. They served for example as conference assistants and at the info desk.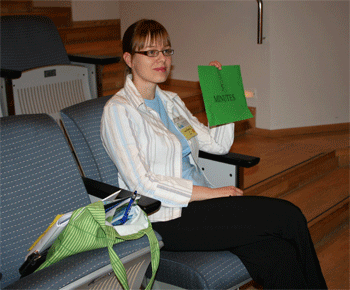 Sanni Haverinen describes her tasks as follows: "I offered technical assistance to the speakers in the sessions. In addition, my task was to take the microphone to the members of the audience who wanted to ask questions of the speakers." Conference assistants also received some exercise. "The Small Auditorium of Tampere Hall starts to feel quite big when you are running around the auditorium carrying the microphone all by yourself", says Haverinen.
From the speakers' viewpoint, it is relieving to know that there is always someone in the hall who can help or at least get help if there are any technical difficulties. "The speakers do not need to worry about being left alone in problem situations. However, help was needed quite rarely", says Haverinen.
"The most of the conference presentations were interesting, so working as conference assistant was nice because you got a chance to listen to the presentations as well. Especially the session on the re-use of qualitative data was interesting. In addition, it was nice to be able to chat with foreign conference guests", says Haverinen.
Working in a foreign language and being constantly alert was also tiring. "It was surprisingly exhausting to be continuously ready to help in various problem situations and actively listen out for people in need of help. Of course you also had to try to look friendly and easily approachable so that people would not be afraid to ask for help", smiles Haverinen.