FSD Bulletin is the electronic newsletter of the Finnish Social Science Data Archive. The Bulletin provides information and news related to the data archive and social science research.



Finnish Social Science Data Archive
E-mail: fsd@tuni.fi


First Promoter of Data Archiving Award to Leif Nordberg
Helena Laaksonen | Photo by: Ari Paloposki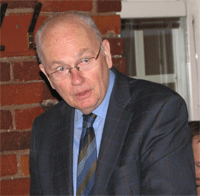 Last year, the FSD established Promoter of Data Archiving Award to celebrate its ten years of existence. The first award was presented to professor emeritus Leif Nordberg from the Åbo Akademi University. In the course of his academic career, professor Nordberg has promoted both comparative social science research and the activities of the FSD in a number of ways.
The Promoter of Data Archiving Award is presented to acknowledge a person who has significantly promoted the operational prerequisites, activities and objectives of the FSD within the Finnish scientific community. It is a personal, academic distinction, and the nominee receives a personalised work of art. The recipient cannot be part of the administrative body or staff of the Data Archive at the time of awarding. The award is presented at irregular intervals, and the nominee is chosen by the Director of the FSD together with the staff.
Nordberg was closely involved in the data archive working group of the Academy of Finland in the mid-90s and in the continued preparation of the project in the University of Tampere in 1998. In addition, he has participated in organising Finland's participation in the Luxembourg Income Study and European Social Survey research programmes. The research data provided by these surveys are a significant source of international comparative research. Nordberg is also known as an active and helpful research methods teacher and instructor, thereby promoting the re-use of existing research data in Finland.
The award was presented to Nordberg in connection with a data archive development seminar organised on 17 December 2009. The awarded work of art was the Drop Vase, created in the co-operation of designer Panu Turunen and master glass blower Kari Alakoski.