Archiving Rock Carvings Data in Sweden
Previously a social science data archive, the Swedish National Data Service today archives data from the humanities, social sciences and health sciences. This wider scope has meant new types of data to preserve, of which rock carvings data are an example. The data consist of digital images of rock carvings and metadata related to the images.
The Swedish Rock Art Research Archives (SHFA) asked the SND for technical support, and it has now been agreed that the SND will handle long-term preservation of the rock carvings data. The SHFA is a national project for establishing a database and an archive for the documentation and research of rock art.
Documentation from the 17th century onwards
Sweden has a centuries-long tradition of rock art documentation and research. Researchers have tried to document and interpret rock carvings ever since the 17th century. A large number of researchers and volunteers have participated in the documentation of paintings in Northern Bohuslän. Rock carvings in Tanum were declared a World Heritage Site by UNESCO in 1994.
Over time, rock art has been documented with many different methods: reproductions made from drawings or sketches, traced on paper or on plastic sheets. Photographic documentation has also been used. Reproductions and photographs have been complemented with notes, comments and descriptions to a varying degree. Most material used has been impermanent. For example, full scale documentations made on plastic sheets are starting to dissolve (Bertilsson, 2007).
Digitalisation of documentation data
The SHFA digitalises rock art data to preserve the work already done. Digitalisation aims both at long-term preservation and at providing online access to the data for researchers. The documentation material (plastic sheets, paper etc) are scanned and saved as unedited TIF files. All frottage and plastic tracing scans from a site are edited and put together into a digital montage, which are also saved as a TIF.
The SHFA's current documentation system includes information on the geographical location of the carving, the origin, location, and type of the data, and the identification number given by the Swedish National Heritage Board. Sometimes information on who made the original documentation and who owns the copyright is also included.
Rock art documentation and DDI3
The SND usually documents archived data with the DDI documentation standard, originally developed for social sciences. The archive has been considering whether to use the DDI documentation standard for rock art data as well. So far, the DDI standard has not been used because most of the rock art documentation is already available on the SHFA web service.
Johan Fihn, System Developer at the SND, says it would be a challenge find a way to use DDI3 in a manner that would meet the needs of rock art researchers.
– DDI 3 does not fully support the documentation of qualitative data. Therefore, there are no instructions on how this type of data should be documented. There are many options, depending on what the organization using the standard wants to focus on.
Photo: A reproduction made by tracing and a photograph of the same carving. Hede, Kville 2001. Catarina Bertilsson, SHFA.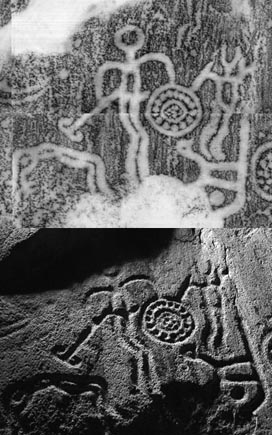 Sources:
» The text is mostly based on Johan Fihn's presentation and additional information provided by him.
» Bertilsson Ulf (2007) Svenskt HällristningsForskningArkiv – a database and an archive of rock carvings. http://www.rockartscandinavia.se/pdf/2007/Ulf-artikel-A07.pdf [Retrieved 13 April 2011].
» Svenskt HällristningsForskningsArkiv
» Swedish Rock Art Archives. Project description by University of Gothenburg, Department of History. [Retrieved 13 April 2011].
»Vitlycke museum mitt i Tanums världsarv [Retrieved 13 April 2011].
»DDI Alliance