FSD Bulletin is the electronic newsletter of the Finnish Social Science Data Archive. The Bulletin provides information and news related to the data archive and social science research.



Finnish Social Science Data Archive
E-mail: fsd@tuni.fi


Professor Michael Marsh at the Data Archive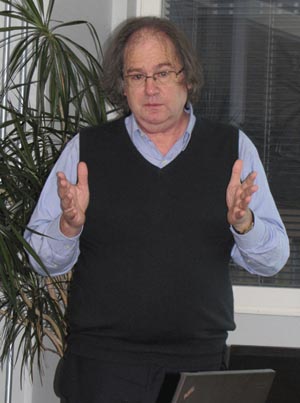 National election studies are not only national but comparative and international as well. Professor Michael Marsh, a political scientist from Trinity College Dublin, visited Tampere in October 2010 to participate in a meeting of the Finnish national election study consortium.
Marsh gave a presentation of the Irish election research and discussed election systems with his Finnish colleagues. The next Finnish national election study will contain new questions on candidate and political party selection. These questions have already been asked in Ireland.
The Irish National Election Study (INES) 2002 - 2007 was carried out as a five-wave panel survey of (initially) 2663 respondents. It encompasses the Irish general elections of 2002 and 2007 as well the local and European Parliament elections of 2004. This was the first comprehensive study on election and voting behavior in the Republic of Ireland. The first and the fifth waves were collected through face-to-face interviews, and the rest through postal surveys. Some questions were repeated which enables longitudinal study. The study forms the Irish part of the international Comparative Study of Electoral Systems (CSES). Data files and the codebook are freely downloadable from the Irish National Election Study website.
In its meeting in Tampere, the national election study consortium discussed the questionnaires of the forthcoming Finnish national election study, its funding and data collection. Data will be collected after the 17 April 2011 parliamentary election, as was done in 2003 and 2007. The study will be funded by the Ministry of Education and Culture, coordinated by the FSD and led by the consortium.
Sources and more information:
» Finnish Election Study Portal
» Finnish Election Study Consortium
» Comparative Study of Electoral Systems (CSES)
» Irish National Election Study (INES)
» FSD1260 Finnish National Election Study 2003
» FSD2269 Finnish National Election Study 2007