Fresh insights into social networks
In 2001, the International Social Survey Programme (ISSP) canvassed social networking in 38 countries. Description of the Finnish data is now available in English.
Family connections and friendly relations
The national module was titled "Finnish friendships and family connections". A bulk of questions dealt with inter-familial relationships as a part of social networking. In addition to the extent of such networks, the respondents were asked how often and in what manner they keep in touch with their parents, grown-up children or other relatives.
Friendships were presumed to exist between relatives, colleagues and neighbours. The number of other close friends, found through hobbies, organisational activities, the church or such, was also probed.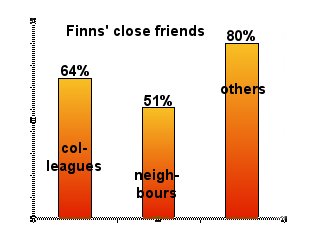 Next of kin or public authorities
The nature of friendships and family connections was examined by asking, for example, to whom the respondents would turn for help. On the other hand, they were asked how often they themselves have lent a helping hand. The survey reveals who the respondents consider being their primary and secondary helpers when they need a loan, assistance in housework or support when feeling depressed.
The data shows how many Finns do not regard their family or friends as their primary support network. Some seek assistance from the welfare state or the third sector, while others try to cope by themselves.
The Finnish data has been collected from 1439 respondents aged between 15 and 74. The response rate of the postal survey is 57.8 percent. The survey was implemented in co-ordination with the Department of Sociology and Social Psychology of the University of Tampere, Statistics Finland and FSD. It was conducted by Statistics Finland at the end of last year.
The ISSP 2001 data is especially well suited for the research and teaching of sociology and social policy. It offers a lot of material for researchers studying families, age, labour market status or gender. In addition, it provides an ideal starting point for further studies.
International datasets and Finland
The 2001 survey was the second ISSP survey dealing with social networks. The first one was conducted in 1986. Since Finland did not join the ISSP until 2000, it is not possible to make comparisons to the 1986 data. It should also be noted that of the year 2000 survey, "Environment II", only the Finnish data are presently available.
In addition to the national data gathered in the last two waves, FSD's collections include 15 international datasets collected prior to Finland's membership.
The cross-national 2001 ISSP data will be accessible sometime next year. The Finnish data will then be supplemented with those collected in Australia, Austria, Bangladesh, Brazil, Bulgaria, Canada, Chile, Cyprus, Czech Republic, Denmark, Flanders, France, Germany, Great Britain, Hungary, Ireland, Israel, Italy, Japan, Latvia, Mexico, the Netherlands, New Zealand, Norway, Philippines, Poland, Portugal, Russia, Slovakia, Slovenia, South Africa, Spain, Sweden, Switzerland, Taiwan, the United States, and Venezuela.
Further information: