Text and photography: Kaisa Järvelä
Education and Clear Rules Needed for Opening Data
The Finnish Social Science Data Archive organised a seminar titled 'Who Owns Research Data' where the representatives of research funders and universities gathered to discuss significant questions of open data.
The Finnish government, research organisations and research funders are willing to open research data to be used by the scientific community, but lack of common principles, training, and adequate research infrastructure currently impede the fulfilment of this goal.
The above summarises the current situation of open science and research in Finland, at least according to the 'Who Owns Research Data' seminar. The national seminar organised by the FSD at the University of Tampere in June attracted roughly 70 representatives from universities, university libraries, research support services, and research funders.
Senior Advisor Sami Niinimäki from the Ministry of Education and Culture presenting the Open Science and Research Initiative.
However, the open data issue is by no means in its infancy in Finland. The FSD, for example, has provided data management and archiving services for researchers since 1999. Many research funders also recommend that researchers open data, deposit them for archiving, and create data management plans. Finland is currently more active in outlining common principles and providing services than ever before.
In the seminar, Senior Advisor Sami Niinimäki from the Ministry of Education and Culture represented the Open Science and Research Initiative (ATT), which was launched last year and aims at making Finland the leading country in open science and research by 2017. The year 2015 is a significant one for the Initiative, as much of its funding has been awarded and many of its reports will be prepared for this year.
Niinimäki says that open data is essential for Finland's activity in the scientific community in the future: "Digitalisation changes the face of international science in ways which require open data and publications."
For example, peer-reviewed open access mega journals, such as PLOS ONE, are gaining popularity in addition to traditional print journals like Nature.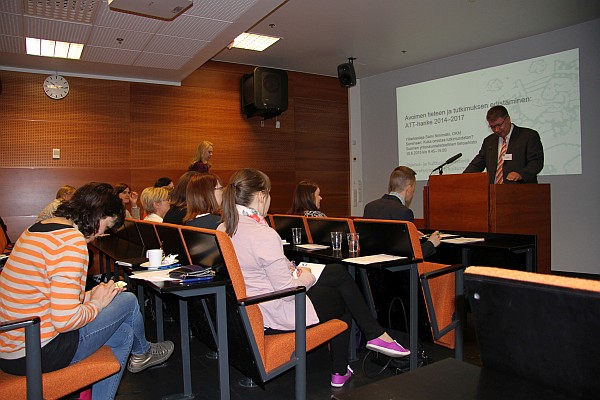 FSD Director Sami Borg giving a presentation about research funders' open access policies.
FSD's Director Sami Borg points out that the benefits of open data are not limited to the changing research culture followed by digitalisation — rather, open data supports many fundamental principles of research, such as the principle of producing new knowledge.
"If researchers can explore digital research data in addition to publications, redundant data collection is minimised," he says.
Finland Still Far from the Top
Sami Borg says that the leading country in terms of open science in Europe is currently the United Kingdom, where the demands of public funders have made open data a self-evident principle of research.
"As open data became a necessity, researchers soon saw its practical advantages," he says.
Borg and Niinimäki both think it is a good thing that demands for open data in Finland have originated from research funders instead of legislation.
"In Italy, for example, the law stipulates that data are to be openly available, but this solution has not worked because the law is not actually enforced," Niinimäki says.
The Open Science and Research Initiative has charted the policies and practices related to openness of science by using a so-called maturity-level test. The assessment, based on the data openly available online, shows that Finnish universities and higher education institutions still have a lot of ground to cover when it comes to open science and research. Half of all higher education institutions were placed on the lowest possible level, which signifies that questions of open science are not taken into consideration at all. What is more, the University of Tampere only reached level three out of five, even though it is among the top Finnish institutions in terms of open research.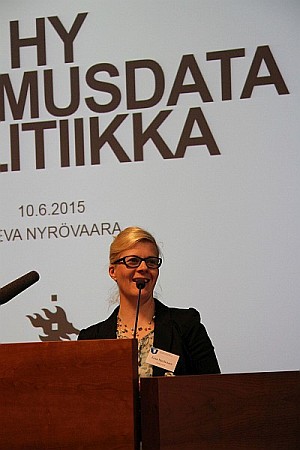 Eeva Nyrövaara introducing the data policy of the University of Helsinki.
Almost none of the Finnish universities have an official research data policy, with the exception of the University of Jyväskylä and the University of Helsinki. The latter published its data policy last February.
"The basis of our research data policy is that all research data related to published results are open and in common use. This requires good data management and clear decisions on data ownership and usage rights," says Research Administration Expert Eeva Nyrövaara from the University of Helsinki.
The goal is, that by 2017 at the latest, the University of Helsinki will be able to offer researchers concrete services, training and support needed for good data management.
Sami Borg points out that data policy documents alone will not be enough to make Finland the leading country in open data, as researchers and university staff should genuinely participate in a culture of open science.
In order to make researchers open their data, they must be convinced that open access to data supports authorship and strengthens scientific merits. At the Finnish Social Science Data Archive, one principle is that all data reusers cite the research data in any publications based on the data.
"Data citations provide visibility to both the researcher and the research organisation," Borg says.
FSD's Development Manager Arja Kuula-Luumi notes that at the Archive, data descriptions are available not only in Finnish but in English as well. Archiving may thus also increase international visibility of research data, which improves the researcher's status when applying for grants, for instance.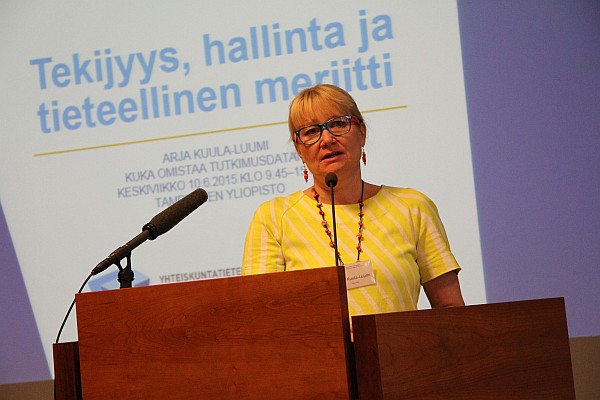 FSD's Development Manager Arja Kuula-Luumi giving a presentation on data authorship and ownership.
Kuula-Luumi says that in some cases research data could even be copyrighted. Doing so, however, would require that the dataset itself is defined as a sufficiently unique original work. It is often the case that only publications are considered original works, which means that properly citing the original author of research data is usually enough for a reuser.
Training and Trainers Needed
Based on the seminar discussion, when it comes to concrete actions in making open data part of Finnish research culture, it would seem that two most important goals involve the creation of common rules and organising data management training.
"Research funders' requirements should have common national principles to support them, while researchers need training in data management from the beginning of their careers," says Project Manager Sari Löytökorpi from the Prime Minister's Office.
Head of Research Development Johanna Hakala from the University of Tampere suggests that researchers should receive information about data management and open data from their own research organisation. She hopes that the Open Science and Research Initiative would provide general recommendations that universities could adopt.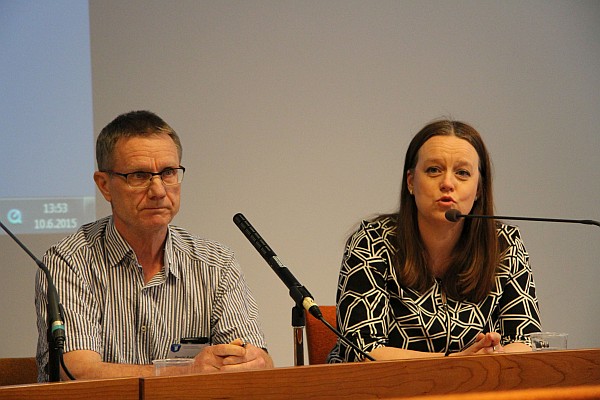 Participants in the final panel of the seminar were Pentti Raittila (pictured), Sari Löytökorpi (pictured), Johanna Hakala and Veli Pelkonen.
Research Director Pentti Raittila from the Tampere Research Centre for Journalism, Media and Communication at the University of Tampere says that researchers need training, modelling, IT support, and digital storage space in order to conduct data management in the manner required by open research. Löytökorpi points out that in addition to data management issues, training is also needed for marketing science and making research interesting.
"It is not enough that data and publications are available in theory. Knowledge should be genuinely available to society," she says.
Eeva Nyrövaara says that Finland needs strong national cooperation in organising training.
"First we need to decide who trains, what will be taught and to whom," she sums up.
Sami Niinimäki thinks the greatest challenge is to find enough skilled trainers with limited resources. The Open Science and Research Initiative is currently working on a new Open Science and Research handbook, which is targeted at researchers, research funders and information professionals. Electronic Data Management Guidelines have also been available for some time on the FSD website.
Seminar participants appeared to view open science as a positive goal. Nonetheless, several panellists pointed out that creating a costly bureaucratic system that causes researchers extra work in the name of open science is not desirable.
"There are also data that can only be used once and it does not make much sense to archive them," Pentti Raittila says.