Arja Kuula
Biobanks Contain Valuable Data for Medical Research
Samples taken from humans are a particularly good object of medical research if they can be linked to information about the health and living habits of the individuals they were taken from. Connecting this information to samples can lead to making new discoveries about diseases, effects of medication, and how genetic factors may affect susceptibility to disease. A collection of samples can only be called a biobank when samples are being stored for use in research and there is information on the sample donors' health and habits.
From separate collections to biobanks
At the moment, cell and tissue sample collections are spread around Finland, with no common registry. The vast data and their research potential have existed for a long time, but the regulations concerning research on human samples have been inadequate and partly contradictory. New legislation will now solve the problem.
The Finnish Biobank Act, which will come into effect on 1 January 2013, contains detailed regulations on how human samples collected for research and in health care can be included in biobanks. The law specifies that both public and private institutions can establish a biobank, but starting the bank will require the approval of the National Committee on Medical Research Ethics. The National Supervisory Authority for Welfare and Health (Valvira) must also be notified of all new biobanks, as it will maintain a national biobank registry.
The Biobank Act safeguards the donors' right to self-determination
The National Public Health Institute of Finland (KTL) had amassed a considerable number of human sample collections, and after it merged with the National Research and Development Centre for Welfare and Health (STAKES), the collections were transferred to the newly-formed National Institute for Health and Welfare. Citizens will be widely informed about their old samples being transferred into newly established biobanks. If donors do not want their old samples transferred into a biobank for research use, they can request to have them removed.
Taking new samples in health care or for medical research always requires the consent of donors. Donors can give a so-called extended consent which allows their sample to be used in all research of the field, without new consent being asked for every new research project. It is likely that few people will think their sample can be used for cancer research but not for research, say, on vascular diseases. However, all donors have the right to determine how their samples are to be used and can withdraw their consent at any time. It is worth pointing out that the extended consent does not mean that the samples in the biobank can be used for all possible research, as every research plan requires an approval from an ethics committee.
The Biobank Act states that donors have the right to know whether a biobank listed in the national register contains any of their samples, and which registers and sources have been used to gather other personal information about them. However, biobanks are under no obligation to provide donors with a more detailed account of what kind of research has been performed on the donor's sample or what kind of other personal information has been collected and from which source in an individual research project.
Research infrastructures of bioscience ensure the success of Finnish medical research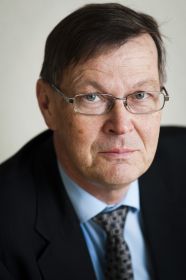 Biotechnology and molecular biology have been focus areas of research in Finland since the 1980's. According to the Director of Biocenter Finland, Professor Eero Vuorio, Finland has other strengths relating to the use of biobanks: "We have a health care system that is of high and consistent quality, and reliable patient records. Different kinds of registers relating to the health and diseases of the Finns have also been maintained for a long time. When these registers are combined with the systematically stored existing and future tissue samples, Finland can become one of the most important countries in the field of medical research."
"What further makes Finland exceptional is that people have positive attitudes towards research and the use of research data," he adds.
Medical research is evolving and needs more and more detailed individual-level data. This kind of information is essential in attempting to understand the role of genes, environment and habits in the development of diseases. International cooperation is very important for medical science and input from both the public sector and the medical industry is needed. That is why Eero Vuorio thinks it is important that the Biobank Act will create explicit rules which will enable Finland to participate in international research and commercial cooperation.
"The effective use of biobanks will benefit everyone. The study on the causes and consequences of diseases and their treatment is obviously important, but at its best research can also lead to significant innovations and product development. The existing research potential does not, however, become a reality solely with the implementation of the Biobank Act. In addition to the Act, functional administrative and information systems are needed to conduct high quality research. This is why Finland's participation in the bioscience infrastructure projects of the EU's ESFRI process is vital," he says.