Helena Laaksonen
Wide-ranging Information on Gender Equality
How many women are there in top boards of Finnish exchange-listed companies? Is parental leave division between men and women an issue of gender equality? When looking for answers for these and other questions related to gender equality, the website of the Centre for Gender Equality Information in Finland (Minna) is a good source to turn to. Minna is a national service centre, funded by the Ministry of Social Affairs and Health and attached to the National Institute for Health and Welfare.
Information Services Manager Sari Pikkala thinks it is of political and social importance to provide objective information on gender equality issues: "The propositions presented by politicians, voluntary organisations and equality bodies are always more convincing when based on knowledge instead of assumption," she says.
Pikkala is a Doctor of Social Sciences and a political scientist. Municipal elections held in Finland in the autumn of 2012 brought a number of questions directed to the Centre. "People asked what kind of effect municipal mergers had had on the number of women in municipal politics. Another issue of interest was the voting behavior of men and women. I also compiled statistics on the gender division of chairpersons of municipal elected bodies," she describes.
Wide-ranging information on men and women
The Centre has close relations with gender equality information centres and networks in other countries, particularly in the Nordic countries. "It is important that Finland now has a body like Minna which collects and disseminates information on Finnish equality issues to international arenas. At the same time we can increase the knowledge of Finnish bodies and researchers on current issues abroad," Pikkala points out.
Minna's scope covers both gender equality work and gender research. The Centre collects gender-related information from different administrative sectors and fields of science. Both men and women are of interest. "There are many archives, libraries and portals in the world concentrating on women's issues. The Nordic countries are distinguished by their broader scope where also men's studies and equality issues for men are covered," Pikkala says.
Researcher background useful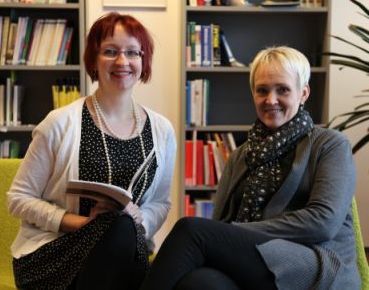 The Centre is run by two persons. In addition to Sari Pikkala, Information Services Specialist Teija Hautala works there. Hautala has previously worked in the University of Tampere as a researcher and teacher in social politics and women's studies.
Their researcher background has proved to be useful. In her dissertation, Teija Hautala studied domestic violence and child custody disputes. Both issues are a veritable minefield as far as gender equality is concerned. "Child custody disputes are an example of an issue that society is very concerned about while there is very little national-level data. My work as an information services specialist helps me to see where the gaps of data collection and research are. For instance, producing gender-specific statistics is still not considered self-evident," Hautala says.
The Centre for Gender Equality Information provides service to authorities, politicians, voluntary organisations, students and researchers — in fact, to everyone interested in equality issues. The website contains information on new publications, projects, reforms and legislation as well as gender equality statistics.
More information:
Centre for Gender Equality Information in Finland