Hannele Keckman-Koivuniemi
Finnish Opinions on Security Policy
– 50 Years of Trend Data
The Advisory Board for Defence Information annually conducts interview studies covering opinions on security policy, foreign policy and defense. The respondents are people living in Finland aged over 15. The first survey was conducted in 1964. Some of the questions have been repeated over the years, allowing longitudinal study over a long time period. The Finnish Social Science Data Archive collections cover the ABDI Surveys from 1992 onwards.
Taloustutkimus collected the most recent ABDI Survey in September-October 2012. It includes a new question that surveys the views on Finland's military cooperation within the European Union and with other Nordic countries and NATO.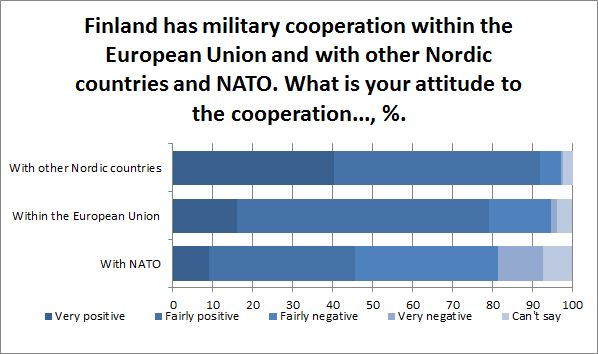 Source: FSD2810 Opinions on Security Policy, Autumn 2012
Nordic Co-operation in Research
The Advisory Board for Defence Information started operations in 1976, but its predecessor, the Planning Board for Psychological Defence, was established as early as 1964. Administratively, the ABDI operates in the Ministry of Defence with Heli Santala as its Secretary General. In addition to annual surveys, the ABDI organises seminars and educational events on security policy, defence, and crisis and emergency preparedness. The ABDI also cooperates with civic organisations and participates in Nordic cooperation.
Similar surveys are conducted in Sweden and Norway. For example, the question "If Finland were attacked, should Finns, in your opinion, take up arms to defend themselves in all situations, even if the outcome seemed uncertain?" that measures the willingness to defend the country has been translated from Swedish into Finnish. The Swedish Civil Contingencies Agency (MSB) (previously the Swedish National Board of Psychological Defence) has asked this question since 1952. In Finland, this question has been asked since the early 1970s. The FSD provides data to the indicator describing the willingness of the Finns to defend their country for the Findicator.
More information
Source material of the graph: Opinions on Security Policy, Autumn 2012 [computer file]. FSD2810, version 1.0 (2013-01-09). Helsinki: Taloustutkimus [data collection], 2012. Helsinki: Advisory Board for Defence Information [producer], 2012. Tampere: Finnish Social Science Data Archive [distributor], 2013. Data description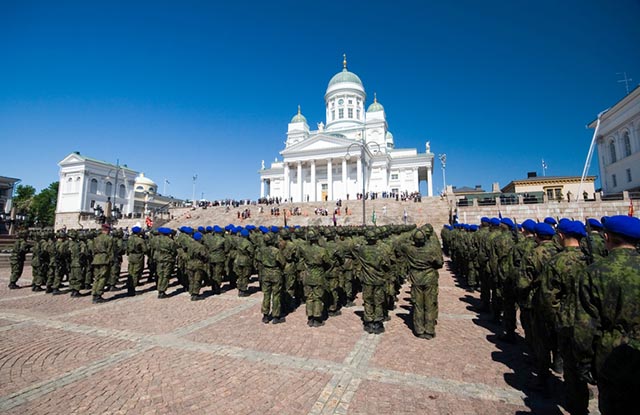 Photograph: © Tuomas Heinonen/ Rodeo Oy