Helena Laaksonen
Data Archiving Promoter 2012 Pentti Kiljunen
The Finnish Social Science Data Archive presented the fourth Promoter of Data Archiving Award to researcher Pentti Kiljunen, who has deposited over 70 datasets at the data archive, either by himself or together with other stakeholders.
Kiljunen works in Yhdyskuntatutkimus, a two-person company celebrating its 30 years of existence in 2013. This small company has established long-term collaboration relationships with a number of enterprises and voluntary organisations for which it collects data and provides analyses and reports. Yhdyskuntatutkimus regularly cooperates with Finnish research institutes as well. Individual commissions come from other clients even though the company does not actively market its services.
Data users from Finland and from abroad
Having his own research company has provided Kiljunen an opportunity to practice a profession he is fond of. He has concentrated on social and political themes and has always been more interested in the results of research than in the financial compensation received for it.
Every year, a great number of data collected by Yhdyskuntatutkimus and archived at the FSD are requested by users for research, study and teaching. The data provide a rich source of information on Finnish attitudes. For instance, the majority of EVA Surveys on Finnish Values and Attitudes have been collected by Pentti Kiljunen. The data archive has translated most of the surveys into English as they have been frequently requested by non-Finnish researchers. Kiljunen himself is pleased with the popularity of the data. "It has been rewarding to see that archiving the data has benefited so many people," he says.
In most cases, Yhdyskuntatutkimus has used postal surveys to collect data. Kiljunen says that he sometimes, though not very frequently, also conducts online surveys, if the body commissioning the survey can provide contact information for the participants. He has not regarded creating a representative panel profitable, saying there is too much competition. He adds that he has doubts as to how well panel studies really represent people's opinions, even with a sample representative of the population. "Reluctance to respond to surveys is a problem for panels as well," he concludes.
Discontinuation of Energy Attitudes Surveys
Ever since the survey series was launched in 1983, Pentti Kiljunen has been involved in the data collection for the Energy Attitudes of the Finns series. Yhdyskuntatutkimus collected the data from the year 1994 till the series ended in 2011. Kiljunen regards the end of data collection as real loss. Nowadays, more limited surveys covering some of the same themes are conducted online, after a tender, and in the view of an experienced social scientist, at the cost of less objective scientific results. The Energy Attitude Surveys are archived at the FSD and are available for reuse.
Kiljunen has positive views and experiences of archiving data. In addition to longitudinal data, he has also deposited a large number of individual datasets at the archive. Archiving has proved to be useful for his own research work as well. "The data archive provides a quick access to my own data and metadata when I, for instance, have to check the exact phrasing of a question in the year 1988 survey or answer queries on a question and its results," he says. "I can also answer queries by telling people go and find the FSD website, the data are all there."
"And there is no denying that it was a great relief to know that my data are safely preserved at the archive when I found a mouse-eaten box of diskettes in my holiday home – they were once my safety copies of data," he says, still amused at the incident.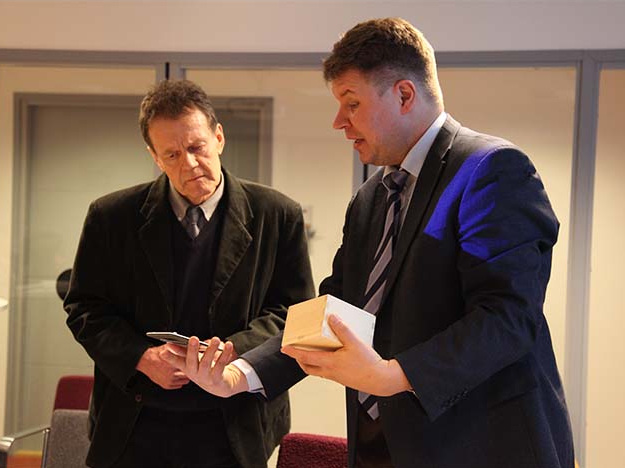 Pentti Kiljunen and Sami Borg. Photograph: Teija Hautanen
Previous award recipients
The Promoter of Data Archiving Award is designed to acknowledge persons who have significantly promoted the activities and objectives of the Finnish Social Science Data Archive within the Finnish scientific community. It is a personal, academic distinction and the award itself consists of an object of art. Pentti Kiljunen received a wooden box with a glass cover featuring a wagtail, designed by Anu Penttinen. He is the fourth award recipient. The previous recipients are professor emeritus Leif Nordberg (2009), professor emerita Elina Haavio-Mannila (2010) and professor emeritus Jukka Kultalahti (2011).
More information