Jarkko Päivärinta
Data Management Award to Researcher of Multiculturalism in Public Space
Dr Michail Galanakis is the first person ever to be awarded the FSD Data Management Award. The awarded study charted interculturalism in the public space. Dr Galanakis interviewed volunteer workers, experts in the third sector and young people in Canadian cities. With the interviews conducted mainly in Toronto, Dr Galanakis wanted to find out how public spaces and interculturalism can be understood, and how experts in public administration and the third sector could take multiculturalism and intercultural aspects into account in their planning work. Intercultural Urban Public Space in Toronto 2011–2013 is available on the FSD Data Portal.
The award was a surprise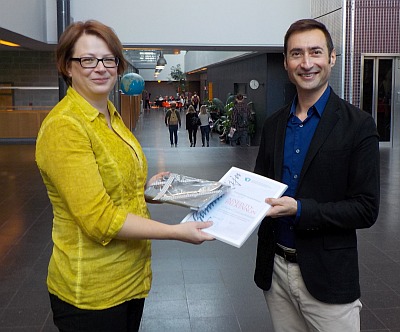 The FSD wanted to present the Data Management Award to Michail Galanakis particularly because he had paid attention to data management and research ethical questions from the beginning of his research, at the planning stages of data collection. He followed FSD instructions when managing the data and consistently mentioned in his publications that the FSD is the repository for the data. When conducting the interviews, Dr Galanakis asked the interviewees for written consent for archiving the data at the FSD. Furthermore, he presented his data archiving plan to a local research ethics board in Canada.
Dr Galanakis was both surprised and flattered to receive the Award: "I am honored that the Finnish Social Science Data Archive decided to present me with the first FSD Data Management Award. It took me some time to understand what it was about and why the FSD had decided that I should be the recipient," he says.
Academy of Finland recommendation decisive
Dr Galanakis first began considering data management and archiving after he saw the Academy of Finland depositing recommendation. "It is purely due to the recommendation of the Academy of Finland that I thought through the issue of data management. This recommendation and my decision to follow it through opened my eyes to issues such as what happens to the fieldwork data after a research project has ended," he says.
Dr Galanakis thinks that the fact that research funders have increasingly started to recommend or even stipulate that research data be deposited for archiving is a favourable development. As the FSD was mentioned by name in the Academy recommendation, Dr Galanakis did not have to spend time on finding a suitable archive. "I also contacted the Office for Research Ethics at York University, in Toronto. As they didn't offer me an alternative, I committed to deposit my data only in the Finnish Social Science Data Archive. Later on, when applying for ethics approvals at York University, nobody ever commented on the organisation I was proposing for data archiving; the FSD must have sounded like a credible organisation," he says.
Depositing was an educative experience
Having deposited one dataset for archiving, Dr Galanakis recognises the areas which could be improved in his own data management practices. "One thing I surely learnt is that anonymising research data to submit for archiving is not as straightforward as one may assume and that it requires special attention," he says.
During the depositing process, Dr Galanakis noticed he had become more conscious of his position both as a researcher and a human being. "There is a fair amount of self-disclosure that takes place in interviews that reveals almost as much about the interviewer as it reveals about the interviewee. This is as humbling as it is empowering and at the end, I believe, it is all about transparency and accountability," he says.
New data already collected
Even though Dr Galanakis' first archived dataset became available for reuse in January, he has already collected a new dataset. The data were collected last June during a public art project in Toronto. As with his first archived dataset, Dr Galanakis took future archiving of the data into consideration in an exemplary manner when planning the research and informing the participants.
The depositing experience made Dr Galanakis also consider making use of data collected by other researchers in his future projects. In future, he is going to find out whether there are archived data available on the topic he is researching. However, he acknowledges one personal problem with using data collected by others: "The biggest difficulty for me in using secondary data would be that I enjoy and find great value in conducting fieldwork and I wouldn't exchange this for secondary data," he says.
Relating to future research topics, Dr Galanakis reveals that his next project will likely relate to women's activism in the public space. He also wishes to thank the FSD. "I wish the Finnish Social Science Data Archive continues the good work in helping us understand the importance of good data management for future research. Ultimately, we are talking about research sustainability, which to me makes sense in the wider context of environmental and social sustainability," he says.