Text and photo: Kaisa Järvelä
Alaterä to Chair International Data Organisation
IASSIST is an international organisation of professionals working with information technology and data services to support research and teaching in the social sciences. In June 2015, Tuomas J. Alaterä, FSD's Information Network Specialist, was appointed its first non-English-speaking president.
Storrs, Connecticut, 2002. Tuomas J. Alaterä, in his thirties, has arrived at his first IASSIST conference held in a little town in Connecticut, USA.
Due to the break between semesters, the campus is deserted apart from the attendees. It's raining. People around Alaterä exchange great-sounding thoughts and ideas about research data, about which the newly appointed specialist knows little. Still, a lasting impression is made.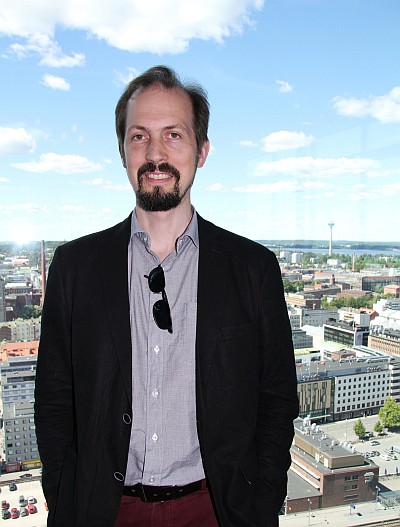 IASSIST's communal spirit impressed Tuomas J. Alaterä from the very beginning.
Now, thirteen years later, Alaterä has just returned from yet another IASSIST seminar, held in Minneapolis, USA, but this time as the newly elected president of the organisation. The appointment is historic, because since its creation in 1974, Alaterä is IASSIST's first non-English-speaking – and only the third European – president.
IASSIST (the International Association for Social Science Information Services and Technology) and its almost 400 members represent universities, data archives, scientific libraries, research institutes and other organisations in the field. Although the community covers more than 20 countries, around two-thirds of its members are from the United States.
The annual international conference is regarded as the primary event, but IASSIST is far more than mere get-togethers: as an organisation, it strives to create data and information service networks, to advance research infrastructures in the social sciences, to encourage the advancement of the expertise of its members and to create and promote practices related to data archiving, documentation, distribution, reuse and transparency.
"From the outset, 'It's all about the data' has been IASSIST's principle," Alaterä explains. "Our intention is to spread information about how to use data, where to find it, how to obtain and analyse it, with what technology, and who can help should you need assistance."
IASSIST can be understood as a kind of a data evangelist that wants to spread data gospel and know-how also to countries where access to the data reserves of the world cannot be taken for granted.
Every year IASSIST's fellowship programme sponsors a few participants from economically less developed countries who would otherwise be unable to attend the conference. Activities with even greater impact are currently being considered. One option is to disseminate data know-how from members directly to impoverished countries through, for example, webinars and existing projects.
Community spirit makes an impression
Between conferences, IASSIST membership translates into mutual assistance, peer support and cooperation. For example, questions on where to find particular data appear regularly on the IASSIST mailing list.
"Someone might ask, say, where they can find data on fast food prices over the years," Alaterä explains. "If there's an answer to the question, it's almost invariably posted within 24 hours."
The acronym IASSIST can also be read as "I assist", which in Alaterä's opinion depicts the core values of the organisation in the best possible way.
"The sense of togetherness and the willingness of members to voluntarily share their knowledge and expertise are exactly the things that impressed me from the start," Alaterä recalls.
"They inspired me so much that I decided to make myself such a vital part of the organisation that my interaction with it would be secured."
From vice-presidency to presidency
Over the years, Alaterä has held various key roles in IASSIST. In 2009, when its annual conference was held in Tampere, he was actively involved in the arrangements and networked with other members. Two years later, Alaterä was already chairing the Program Committee.
The real turning point came around four years ago when Alaterä was invited to become the vice-president of the organisation.
"It was a great honour, especially as I didn't have a lengthy background as a representative of the administrative bodies," he says.
That jump to the top of the organisation turned out to be much bigger and more challenging than his latest one from vice-presidency to presidency. As vice-president, Alaterä was in the best possible position to study and practise his future role.
"During the last year of my vice-presidency I acted as the president's stand-in on a number of occasions," he explains.
As president, Alaterä is now the figurehead and official representative of the organisation. He prepares and holds all management team and board meetings, checks that the arrangements for the next annual conference are progressing as planned and makes sure that the organising city and organisers are found on time.
More European members?
In IASSIST, the president is by no means a dictator but someone who works in close cooperation with the Administrative Committee following the traditions of the organisation. Each president is expected to leave their personal mark, however, and here Alaterä already has certain ideas and visions.
His first clear objective is to find and introduce a set of electronic tools which will make organising the annual conference an easier task for both the programme committee and the local organisers.
His second objective is to increase the visibility of the traditional data organisation in an age where digital preservation and data dissemination are re-occurring upward trends.
"People don't automatically turn to old organisations," he says. "Instead, it's our job to promote the work IASSIST has done over the decades, especially with social sciences data."
The members of the organisation have more than forty years' experience collecting and curating data for reuse. The models created have laid the foundations from which it has been easy to gradually expand from the social sciences into other disciplines.
Of course, Alaterä would like to see more members, especially European ones, joining IASSIST. "Many European research data professionals would make excellent IASSIST members," he says.
A precise vision of how the organisation could attract more members from Europe is still under development. Most likely IASSIST will sponsor a local conference somewhere and gain visibility that way. So far this year it has already sponsored two other conferences in the field.
In addition, its next annual conference – to be held in Bergen, Norway – does provide an excellent opportunity from a geographical point of view to attract more European participants and perhaps also IASSIST members.
Alaterä notes, however, that although recruiting members is important, it cannot be the focus of activities.
"Keeping current members happy is just as important," he says. "That calls for transparent management, successful conferences and added value between meetings."
One crucial aspect is to continue delivering conference experiences so memorable that newcomers will want to get involved and apply for key positions in the organisation – just like the young Alaterä did.
Tuomas J. Alaterä
Born in 1972.
Lives in Sipoo, Finland.
Works as an Information Network Specialist at the Finnish Social Science Data Archive. His career at the FSD started in 2000 in web design. His current job description includes issues related to digital content and services, long-term preservation, and national library and archive cooperation.
Education: Master of Social Science, University of Tampere, majoring in political science.
Hobbies: In addition to work and commuting, various positions of trust. His aim is to set aside more time for his family.
Assumed the post of president of IASSIST in June 2015. The organisation elects its president every two years.
More information: