Text, photo and tables: Kaisa Järvelä
Children Manage Better Online than Parents Think
The EU Kids Online survey was conducted to map children's Internet behaviour and associated risks in 25 EU countries. Without Reijo Kupiainen, a university lecturer from Tampere, and the active role he took, Finland would probably have been excluded from this unique study.
While attending a seminar in 2008, Reijo Kupiainen, University Lecturer of Media Education at the School of Education of the University of Tampere, stumbled across a very interesting research project.
A research team led by the London School of Economics was giving a preliminary presentation on its European Commission-funded survey, in the course of which they intended to interview some 24,000 European children and their parents about the risks associated with the Internet. The aim was to produce data based on children's and young people's own experiences that could then be used in online security-related decision-making and guidelines.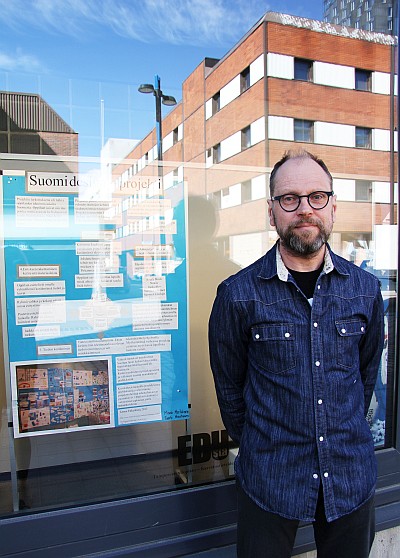 Reijo Kupiainen, a lecturer of media education at the School of Education of the University of Tampere, managed to include Finland in a major European research project at the eleventh hour.
Kupiainen asked the researchers why Finland was not involved in the pan-European project.
"I was told that the research network had sent Finland a request to participate in the study but had never received an answer," he explains.
Thanks to Kupiainen and his curiosity, Finland's participation in the survey was secured at the last moment.
In addition to Kupiainen, the Finnish national research group included Kaarina Nikunen, Sirkku Kotilainen and Annika Suoninen.
As the EU funding for the project had already been divided between the original participants, the Finnish research team had to find their own resources. Ultimately, the funds were secured through the Ministry of Education and Culture and the Ministry of Transport and Communications.
Research interviews were conducted in the spring and summer of 2010 in 25 EU countries. A total of 25,142 randomly sampled children and young people aged 9-16, as well as at least one of their parents, were interviewed about their behaviour in the online world. In Finland, 1017 children and an equal number of parents participated in the study.
Finnish parents and children are experienced Internet users
The questions charted how and for what purposes children in different countries use the Internet; the ways their parents limit, encourage and monitor their usage; and the risks associated with using the Internet. Regarding risks, the study focused on cyberbullying, pornography, sexual messages received by children, online contacts, possible real-life meetings and the misuse of personal data. To respond to more sensitive questions the children submitted answers on paper under confidentiality.
"The biggest surprise, based on the responses, was that adults seem to have been overly concerned about their children's Internet safety," Kupiainen says.
Over the years, the dangers of Internet use have been widely discussed by adults in a number of forums, but now that the children themselves have been asked about the matter, it appears that many of the concerns are in fact ill-founded.
"The children didn't feel that high-risk content had a particularly negative impact on them," Kupiainen explains.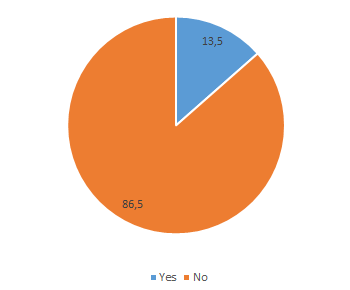 In the past 12 months, have you seen or experienced something on the Internet that has bothered you in some way?
For example, only 13.5% of the children surveyed reported having seen something disturbing on the Internet in the previous year.
"The number is small when you take into account the fact that, in practice, all children and young people who are avid Internet users end up at some point on sites with, for example, pornographic content," Kupiainen says.
He believes that children do not find this as distressing as some might think because many of them have already been desensitised to sex, disasters and violence through media exposure.
"Instead, many reported finding videos with, for instance, cruelty to animals very disturbing. News of, say, major natural disasters is perhaps easier to ignore because it seems so remote," Kupiainen adds.
On the whole, the Finnish replies were in line with the other Nordic countries, where children are experienced Internet users and parents have an active role in supporting and monitoring their children's life online.
For example, how Internet-savvy Finnish parents are is reflected in a question about the extent to which they feel they can help their children deal with disturbing online content. Among Finnish parents, as many as 87.3% believe they are able to help their child a lot or quite a lot, whereas among other European parents the corresponding figure was 83.1%. It is also worth noting that only 1% of Finnish parents felt that in such a situation they could not provide any assistance. Among all European parents, 4.7% reported such a feeling of helplessness.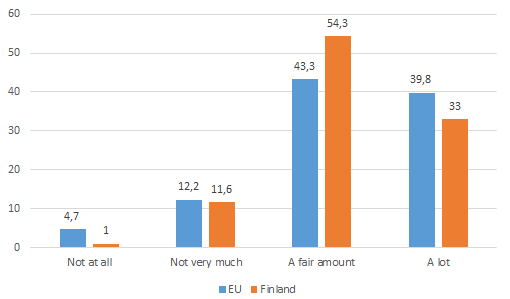 To what extent, if at all, do you feel you are able to help your child to deal with anything on the internet that bothers them?
Survey may be repeated within a few years
Although the EU Kids Online survey was conducted five years ago, the work of the research network continues. If funding can be found, a repeat of the survey may be seen as early as 2017.
This sort of data is highly time-sensitive: technological changes are rapid, and compared to 2010 the use of, for example, mobile media has grown enormously in popularity.
"Personally I'm a little sceptical as to the topicality of the 2010 data in 2015," Kupiainen admits.
On the other hand, he believes that people's behavioural patterns and attitudes evolve much more slowly than technology.
"For example, I doubt whether five years is enough to see any major changes in the way parents monitor their children's Internet behaviour," he says.
The EU Kids Online survey data, related metadata and national questionnaires can be downloaded from the UK Data Service. A list of scientific publications based on the data is also available through the service. The data service is free of charge for registered users. For more extensive information on the research project, separate country-specific data and current updates, see the EU Kids Online website. Summarised country-specific results of the study are also available on the site.
More information:
EU Kids Online available from the UK Data Service: Livingstone, S., EU Kids Online: Enhancing Knowledge Regarding European Children's Use, Risk and Safety Online, 2010 [computer file]. Colchester, Essex: UK Data Archive [distributor], November 2011. SN: 6885, http://dx.doi.org/10.5255/UKDA-SN-6885-1