Text and Pictures: Kaisa Järvelä
Aila Seminar: Use of Existing Data Benefits Everyone
The speakers at the first Aila Seminar encouraged listeners to archive and reuse research data. The FSD Data Management Award presented at the end of the seminar stands as acknowledgement of exemplary data management.
The FSD's first seminar on the Aila Data Service and data reuse was held at the University of Tampere on 17 September. The event, which will hopefully become a tradition, brought together some 60 attendees interested in data archiving and FSD services.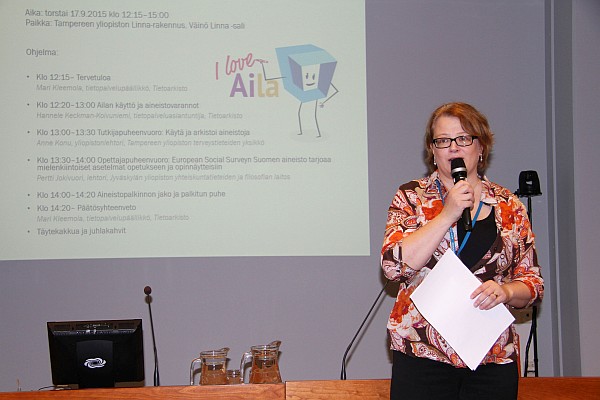 Mari Kleemola, a Development Manager with the FSD, opened the first Aila Seminar.
—If you aren't yet part of the 'I love Aila' group, I hope that will change after this seminar, said Hannele Keckman-Koivuniemi, an Information Services Manager with the FSD when opening her presentation on the Aila Data Service.
Keckman-Koivuniemi stressed that archived data are not supposed to gather dust at the FSD, but be disseminated efficiently to customers. Aila's online portal, launched in spring 2014, has significantly increased the use of archived data in all target groups, from students to researchers and teachers.
—Most of our existing users are students who need data for their studies or for their Bachelor's or Master's thesis, but a lot of datasets are downloaded for research and teaching as well.
According to Keckman-Koivuniemi, by mid-September 2015, Aila had 1414 registered users (of whom 7 % were from outside of Finland) representing more than 30 countries.
At the same time, Aila data catalogue contained some 1180 datasets, the vast majority of them quantitative. The volume is growing steadily. More than 300 quantitative datasets were also available in English (i.e. questions and response alternatives), with nine qualitative datasets collected in English or at least partly translated. The archive translates quantitative data into English on request.
The terms and conditions of use vary on a case-by-case basis, but the majority of data – about 900 sets – are available to registered customers for research and study. In September, around 150 datasets were available for research from the level of Master's thesis upwards, and just over 90 only with the permission of the depositor. A total of 35 datasets could be downloaded even without registration.
Although there are no costs involved for reuse, Keckman-Koivuniemi reminded listeners that authors must always be referred to and the Data Archive notified of any publications based on archived data.
Aila is quickly evolving. Keckman-Koivuniemi revealed that in the future, researchers may also deposit data directly through Aila.
"Data to be disseminated as widely as possible"
In addition to FSD staff, those using the archive's services were given the floor at the seminar. Anne Konu, a lecturer at the School of Health Sciences of the University of Tampere, has been depositing School Well-being Profile surveys for 10 years. The profiles are online surveys conducted regularly among Finnish schoolchildren and staff. In addition, Konu has been active in promoting FSD services to her thesis and dissertation students.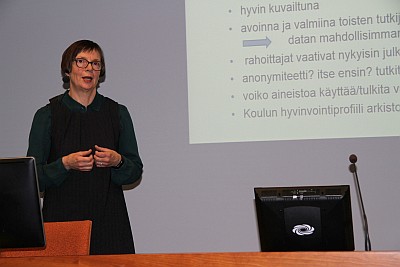 Anne Konu has been depositing School Well-being Profile surveys for 10 years.
—I can download my data whenever and use it as I please, but at the same time I know it's stored in a safe place and available for others to use. In addition, the archive describes the data very well, Konu said when explaining her reasons for archiving.
In her opinion, it is data collected through public funding in particular that should be disseminated as extensively as possible. She finds that her own profiles are useful to educationalists and health and social scientists.
—Why should a researcher be the sole owner of publicly funded data? Konu asked her listeners.
When talking about the rationale behind data reuse, Konu said there was no point asking people questions someone else has already asked.
—Use of existing data benefits everyone. The more we bother people, the more bored they'll be with our queries.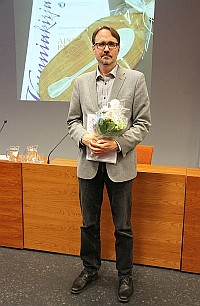 FSD Data Management Awardee Janne Kivivuori.
Konu finds pre-existing data particularly useful to thesis students who are just learning about the basics of research.
—Learning to examine, analyse, write and read is much more valuable than collecting data, which with students' resources might not even be very reliable, she said.
FSD Data Management Award for Janne Kivivuori
At the end of the seminar, the FSD Data Management Award 2015 was presented to Janne Kivivuori, D.Soc.Sc and Research Director of the Institute of Criminology and Legal Policy in Helsinki, for the Juvenile Delinquency data series.
This research, launched in 1995 by the Institute of Criminology and Legal Policy under Kivivuori's supervision, aims to monitor juvenile delinquency and forbidden behaviour over long periods of time. The surveys, conducted among Finnish 9th graders every four years, have been archived at the FSD from the start despite the many challenges posed by, for example, research ethics and data protection. The surveys are available from the FSD for research, including for theses.