Text and Picture: Kaisa Järvelä
"The Data Just Fell into My Lap"
Ville Kivimäki, a research fellow and recipient of the Tieto-Finlandia non-fiction award in 2013, found from FSD collections a dataset that fit his research interests perfectly. For a researcher who was used to toiling away in the National Archives, data that were readily available caused odd feelings of guilt.
What happens when an historian burrows his way out of a dusty archive and clicks on FSD's data catalogue without even leaving home?
In the best scenario, a compact, readily available dataset that matches the research topic perfectly is just a couple of clicks away. This is what happened to Ville Kivimäki, a research fellow at the University of Tampere, after his colleague urged him to take a peek at the data archive's homepage.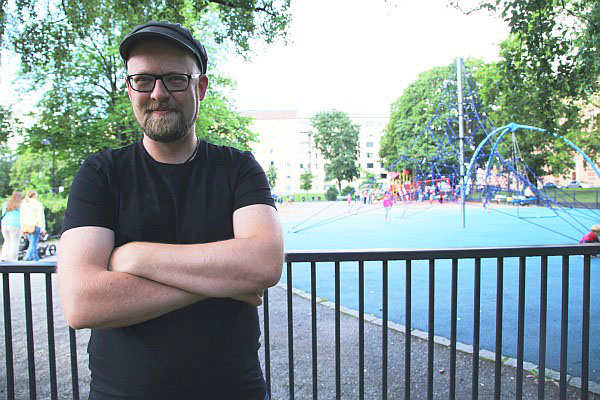 Ville Kivimäki says that for an historian living in Tampere, FSD is a gem, as the more traditional archives are located elsewhere.
Kivimäki was planning a dissertation on return from war from the perspective of returning soldiers' children, wives and other relatives. As if on cue, Father-Son Relationships and the War (FSD1325), interview data collected by Erkki Kujala in 1999–2001 giving a voice to boys with veteran fathers, awaited him in the archive.
Subsequently, the topic of Kivimäki's dissertation changed before he could put Kujala's data to use.
—I didn't get as far as the post-war period as I decided to concentrate on military psychiatry and emotional breakdown of soldiers during the Continuation War, Kivimäki explains.
The result was perhaps the most interesting historical dissertation of recent years and the basis of Kivimäki's Tieto-Finlandia award-winning book, Broken minds: The battle for the nerves of the Finnish soldiers 1939–1945.
Dataset was a stroke of luck
Fortunately, Kivimäki found another way to use the archived dataset. Due to the change in his dissertation topic, Kivimäki had in his hands a lot of unused data collected from the Folklore Archives of the Finnish Literature Society on wartime experiences of women and children.
Together, the two sets of material induced him to write an article entitled Sodan rampauttama vanhemmuus [Parenthood crippled by war], which was included in the book Sodassa koettua – Haavoitettu lapsuus [Experiences of war: Wounded childhoods, 2007], co-written with Sari Näre, Jenni Kirves, Atte Oksanen and Tuomas Tepora.
Kujala's interviews formed supporting material which Kivimäki used alongside his own data collected from the Folklore Archives. The finished article included four references to Kujala's interviews. Thanks to the data, Kivimäki realised how deep the tradition of hiding emotions ran in both men and boys during the war. Boys observed the behaviour of their fathers and accepted it as a norm from a very young age.
—I had expected it to be a stereotype, but as Kujala's data show, it was very much reality, he says.
Kivimäki believes that in reuse, archived data will work best as complementary material to one's own data. Such data are likely to speak to a researcher when the topic and questions of the original research correspond approximately to his or her own research question. This is exactly what happened to Kivimäki: Erkki Kujala's research interests seemed very similar to his own.
—His data felt like a stroke of luck.
Feelings of guilt
Ville Kivimäki believes that for an historian, the idea of using data someone else has collected with a great deal of effort is somewhat odd, even a bit problematic.
—Most of us still believe that proper research is done by toiling away in an archive for at least a year to gather tiny needles of information from a haystack of data.
Ordering data from FSD catalogue straight to one's own inbox and then just clicking to open them felt almost unreal.
—Compact data just materialised in my computer, he says with a smile.
Today, data ordering is even easier than what Kivimäki describes: FSD's online Aila Data Service, launched last year, enables registered users to download data directly to their computers.
Kivimäki admits that using someone else's data made him feel a little guilty even though he knew it had been deposited specifically for that purpose. He believes the feeling stems from the idea of an historian who buries himself in archives to dig out great truths.
Perhaps it is time for attitudes to change, he ponders.
—If people didn't take their data and the collection process so personally, maybe archiving and reuse could also become easier.
Next project under planning
Ville Kivimäki notes that for an historian, Tampere is not an ideal location as there is no provincial archive in the city, and research usually has to be done in, say, Helsinki or Hämeenlinna.
—Under these circumstances, the data archive is a gem to be treasured, he praises.
His own research has now reached the point where he should zoom in on a new topic – and find appropriate data for it. He aims to browse the archive's present collection at the earliest opportunity.
Kivimäki has already located electoral data studying voter behaviour which he finds very interesting, as such data can also be tied to war research.
—An interesting, albeit challenging, angle could be to study voter behaviour in relation to people's war experiences, Kivimäki says.
Who knows – maybe Kivimäki's next work will turn out to be the first Tieto-Finlandia awarded book based on archived data.
Dataset:
Ville Kivimäki
Born in 1976 in Helsinki.
Lives in Tampere with his wife and two children.
Works as a research fellow at the Finnish Centre of Excellence in Historical Research (University of Tampere).
Awarded the Tieto-Finlandia prize for the best non-fiction book of 2013 (Broken minds: The battle for the nerves of the Finnish soldiers 1939–1945, based on a dissertation published the same year).
Text: Kaisa Järvelä
Unspoken Sorrows and Fears Burden Soldiers' Families
When recollecting their childhood in war-time Finland, many remember absent, raging, drunk fathers and tired, frightened mothers, but there are also those who describe their dads as safe, protecting their home at the front, and their mums as gentle and caring.
When Ville Kivimäki, a research fellow at the University of Tampere, started investigating the impact of war on Finnish soldiers' parenting and interaction with their children, he soon understood the magnitude of the task before him.
—After the war, half a million veterans returned home, setting off a massive spike in birth rates. I had to think really carefully about how to approach the topic in order to produce a sufficiently diversified picture, Kivimäki recalls.
For his article Sodan rampauttama vanhemmuus [Parenthood crippled by war], Kivimäki read through the extensive collection of memoirs archived by the Finnish Literature Society. Father-Son Relationships and the War, interview data collected by Erkki Kujala in 1999–2001 and archived by the FSD, was used as supporting material.
Emergence of safe fathers
Although the war affected families in different ways, Kivimäki noted the concrete effects it had on relationships between children and parents.
—For many the absence of their father, for example, and the fact that once they returned, their dads got together to drink and talk about the war, was quite normal, Kivimäki says.
When drunk, bottled-up emotions tended to erupt as uncontrollable rage. Many children, even very young ones, sensed the fear and distress in their mothers and tried to become "invisible" so as to not cause more trouble.
In addition to all of the fear and anxiety, Kivimäki did, however, come across many warm memories and positive family stories.
—The traumatised men returning home were accompanied by safe, family-centred, wise fathers, who very much looked forward to starting normal civilian life with their families, Kivimäki explains.
Families carried their burdens alone
In many post-war families feelings were not a popular topic, but as Kivimäki points out, they are very much present in the data.
—People weren't insensitive. All the grief, loss and experiences had just been too much, too distressing, to be dealt with in words.
After the war, society focused on economic reconstruction and the normalisation of political conditions. Physical and mental health problems were left to families to deal with.
Two generations later the suffering remains, or at least traces of it: Kivimäki, born in 1976, explains how he could sense the effects not only in his grandparents, who had experienced the war, but also in his own parents.
—Through them, I've seen in a very concrete way how war affects families long after it ends, he reveals