Text and photo: Kaisa Järvelä
Survey Dataset Worthy of Honorary Mention Created as By-product of Thesis
At this year's Aila Seminar on data reuse and the Aila Data Service, the Finnish Social Science Data Archive (FSD) awarded the first ever honorary mention for data management alongside the FSD Data Management Award. The honorary mention was awarded to Josefina Sipinen who had collected an exemplary survey dataset for her Master's Thesis in Politics and archived it for further use at the FSD.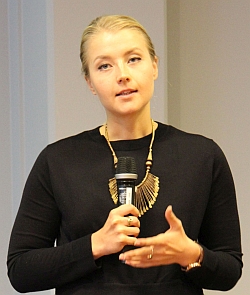 Researcher Josefina Sipinen says she received encouraging feedback and concrete instructions from the FSD when collecting data for her thesis.
Sipinen set out to discover the cause of this phenomenon in her thesis. She formulated the research question to determine whether local residents' views of municipal administration and decision-making bodies affect their image of their home town. To obtain answers, Sipinen sent one thousand residents of Pieksämäki a questionnaire charting their experiences of their home town.
In the end, the excellent dataset Residents' Image of the Town of Pieksämäki 2015 was created as a by-product of Sipinen's thesis. The dataset sheds light on the views of over 300 residents of Pieksämäki on issues such as municipal politics, attractiveness of the town, organisation of elderly care and children's day care – along with various other interesting issues.
Archiving process was exceptionally smooth
It was particularly wonderful that Sipinen immediately contacted the FSD when planning data collection. The contact sparked effortless cooperation: Archiving plans were plainly stated in the questionnaire itself, and the staff processing data at the FSD received an exemplary data file to process after the job was done. Variables in the data file had been named and labels meticulously created according to the practices recommended in the FSD's Data Management Guidelines. The delivery package also included comprehensive metadata as well as appropriate collection instruments.
Sipinen's dataset can now be downloaded online from the FSD's data service portal Aila for research, teaching and studying purposes. Sipinen herself is writing her doctoral thesis and working as a researcher in the School of Management at the University of Tampere. In other words, Aila will surely feature even more datasets collected by Sipinen in the future.