Jarkko Päivärinta
Aila User Experiences: Downloading Data from Aila Is Quick and Easy
The FSD's data delivery practices went through a complete overhaul in spring 2014, when the digital Data Service Aila was launched. Aila has now been in use for six months and data deliveries have significantly increased. We asked three users, who have ordered data both before and after Aila, about their Aila user experience.
Registered Aila users can download data in accordance with the conditions set for each dataset. Before Aila was launched, people who wanted to order data had to fill out an Access Application and Agreement on Data Use Conditions on paper. Students also had to ask their teacher or supervisor to sign the application. Filling out paper forms is now a thing of the past, thanks to Aila.
Aila makes use of the Haka identity federation, which enables direct registration for people working and studying in Finnish universities and universities of applied sciences. Other users fill out their personal and contact information in Aila, which will then be verified by FSD User Services. The new process is faster and less complex for the user. It also allows even more secure user identification than before. Users have been pleased with the new, easier process.
Datasets ready for use from Aila
University Instructor Tuukka Tomperi from the School of Education in the University of Tampere says that "Aila is a very welcome development in the FSD's services. The previous method of ordering data worked fine and FSD staff have always been friendly. However, Aila has many advantages: datasets are easier to find, ordering data is more effortless and datasets are ready to be used immediately."
Researcher Annukka Vainio from MTT Agrifood Research Finland is also very satisfied with the new service: "Aila was a very positive experience. Registration was quick and after receiving the login credentials, downloading data was straightforward."
As an active data user, Ms Vainio had been expecting a digital data delivery system. "I have been expecting a data portal like Aila, because the German archive GESIS, for instance, has provided similar opportunity to download data online for some time now."
Like Mr Tomperi and Ms Vainio, Doctoral Student Aki Koivula from the University of Turku is pleased with the data service. "Being able to download data directly has significantly facilitated using the FSD services. The former paper-based system felt really unwieldy and bureaucratic."
Desired feature: sorting by theme
Although none the interviewees have had problems with using Aila, they have suggestions for new features. Many people who have used FSD services prior to Aila launch are accustomed to searching data by theme. For the time being, there is no such feature in Aila.
"I'd like to see the possibility to sort data by theme in Aila, as it would facilitate finding new datasets," Mr Koivula says. Mr Tomperi is of the same opinion and points out that Aila and the Data by Theme web page are currently somewhat disconnected if a user is not already familiar with the structure of the website. Ms Vainio wishes for the possibility to refine search results to data collected between certain years as well as to sort results by time and relevance.
We can assure people desiring new features that Aila development was by no means finished with the launch last spring. FSD Technical Services are constantly developing the functionality of Aila and will incorporate new features as needed. The plan is to add the aforementioned searches by theme and by year in the near future.
Users can send comments and suggestions for improvement related to Aila directly to FSD Technical Services. Senior Systems Analyst Matti Heinonen, who is responsible for Aila management and development, promises that user feedback and ideas for improvement will be taken into account as far as possible.
Users recommend Aila Data Service
All three Aila users we interviewed said they will recommend Aila and other FSD services to their colleagues as well as students looking for data. It is expected that the number of users will increase as news about the Aila service and the possibility to directly download data spreads among researchers and students.
"Making use of pre-existing data should be promoted instead of favouring collecting new data, which is what funders often seem to do. Aila and the Finnish Social Science Data Archive are well functioning and important services, and they have an essential role in supporting research and university education. I hope that they will be used even more in the future," Annukka Vainio says.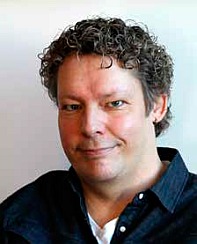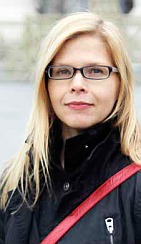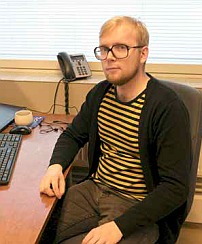 Tuukka Tomperi (left) is satisfied with the fact that datasets are immediately downloadable. Annukka Vainio is of the opinion that available data could be reused more. Aki Koivula would like to be able to sort data by theme in Aila.