Text: Kaisa Järvelä, photos: Outi Törnblom and Kaisa Järvelä
Data Management, Food Banks and a Biography of a Chair
Methods Festival, held on 19 & 20 August, saw more than 500 people interested in research methods gather together in Tampere. The festival programme consisted of plenary speeches, more in-depth exploration of hot topics and 'What is...?' sessions examining different methodological perspectives simultaneously. FSD Bulletin presents one interesting presentation from each category.
Poverty researcher's worries over policymakers' attitudes
Plenary session 1: Food banks in Finland: How social policy deals with the disadvantaged
Professor Juho Saari, University of Eastern Finland
Juho Saari, a professor from the University of Eastern Finland, opened the Methods Festival in an impressive manner with a plenary speech entitled Food banks in Finland.
Over the years, Saari has led many research projects focusing on the impoverished in Finland and has presented his findings to the Parliament, among others. A research publication on Finnish food banks in the 2010s co-edited with Maria Ohisalo (M.Soc.Sc) entitled Who stands in a food bank queue was published in December 2014. The next research project, based on materials collected at needle exchange points and entitled Welfare of the cloudy souls is in the final stages.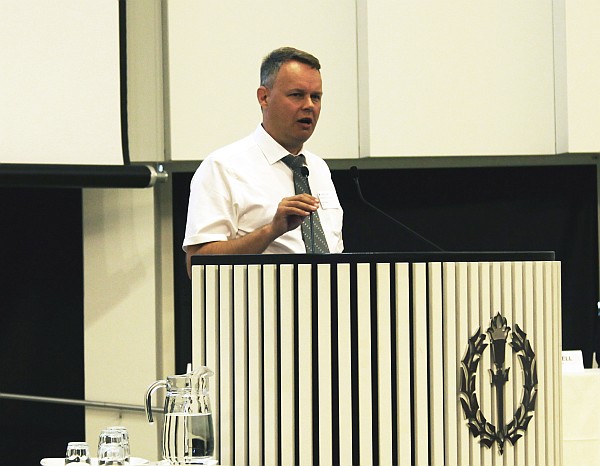 Professor Juho Saari studies people who are the worst off in Finland.
In his research, Saari zooms in on Finns whose reality, quality of life and everyday living are very different from those of the middle class. Saari believes that the experiences of the worst-off in the country are disregarded in studies tapping into the whole population, because traditional surveys simply do not reach them.
In his presentation, Saari put before the audience results showing that the majority of the presently well-off Finland do not know, or even care, how the most vulnerable of us are doing or living. He says that at the bottom of the welfare state there is a hole through which some fall to food bank queues and needle exchange points.
But as Saari emphasised, even the poor show significant qualitative differences: most of the 750,000 Finns classified as poor can lead a life that is relatively similar to that of the middle-income population. In food bank queues (about 20,000 Finns) and needle exchange points (about 15,000 Finns) you do, however, find a minority that live in extreme poverty, and whose lifestyle and standard and quality of life are, in qualitative terms, distinctively different from the rest of the population. In fact, many figures probing the standard of life would rather place them in an underdeveloped country than in Finland.
Saari believes that the only viable way to study this group is to go to them, i.e. to food banks and needle exchange points. Once there, however, getting answers can be quite tricky, because as studies show, their trust in other people is approximately the same as that of Zimbabweans.
As noted by Saari, instead of collecting data, the first thing you need to do is win people's trust. A large enough sample takes time, but is worthwhile, since a lot of social policy draws on distributions and figures. Saari is particularly interested in personal experiences – in seeing how the people themselves view their life and well-being.
For Who stands in a food bank queue, the researchers interviewed 3,400 people at 170 food distribution points all over Finland. According to Saari, the majority of the recipients of food aid are unemployed, have been laid off or are retirees living alone. Most receive some social security benefits, but due to the gradual increase in unavoidable living expenses, such as rent, some actually have no money to live on. Climbing from the bottom is difficult: when daily life is a struggle for survival, a person has no resources left to look for a job or think about retraining.
Saari is concerned about the prevailing social policy discussion and atmosphere in Finland. At the Methods Festival, he presented several surveys with basically the same message: all government parties feel that comprehensive social security and a high level of care make people lazy and unenterprising. Saari fears that in the near future, more and more Finns will fall through the safety net into food bank queues, where living is not only extremely difficult, but also costly to society.
Increasing interest in data management
Data management session
Arja Kuula-Luumi, Development Manager; Annaleena Okuloff and Katja Fält, Research Specialists, FSD
This year the FSD's data management session was a real crowd-puller. Arja Kuula-Luumi, Development Manager at FSD, saw the popularity of the session as resulting from the stricter transparency requirements imposed by sponsors and international scientific magazines.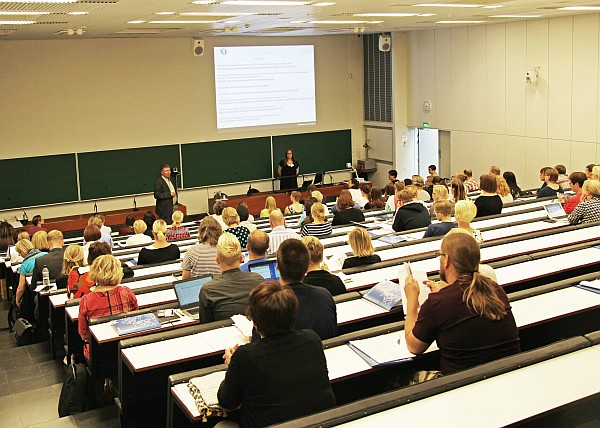 FSD's data management session filled one of the largest lecture halls at the University of Tampere.
The Academy of Finland, for example, emphasised the principles of open access and open data in its September 2015 call, and asked the researchers to include in their application a plan for data publication and management. In her presentation, Kuula-Luumi focused on data management in the light of the new guidelines of the Academy of Finland. FSD's Data Management Guidelines include all necessary information for drawing up data management plans in compliance with the Academy's requirements. The guidelines are freely accessible on the FSD website.
As Kuula-Luumi pointed out, the Academy's applications are reviewed by international panels whose members are likely to be familiar with the guidelines followed in their respective home countries. In the United Kingdom, for example, the ESRC Research Data Policy (Guidance for peer reviews) sets very strict requirements for the openness of data. Therefore, the data management plan should be adequate and realistic in relation to the reuse of the accumulated data.
Annaleena Okuloff, Health Research Specialist at FSD, talked about the special challenges in the archiving and sharing of data related to health and medical sciences: data tend to contain a lot of sensitive information, which according to law are confidential.
In the strictest sense of the law, sensitive data can only be reused with the respondents' permission, or with all identity numbers and identification codes permanently removed. Archiving personal data, however, is possible as long as the respondents agree to this upon the collection of the data.
Okuloff is hopeful that the restrictions will be eased somewhat. For instance, the latest version of the General Data Protection Regulation issued by the Council of the European Union is quite research-friendly. The Biobank Act, which is already in force, grants respondents the right to issue consent for a wide range of research activities. In practice, this means that a person may allow the use of material in, say, all cancer research. If the material is covered by the Biobank Act, coded data can also be released for reuse.
Okuloff explained that although sharing data among research groups is an established practice in health and medical sciences, archiving and reuse are still uncommon, at least on a larger scale. According to a researcher survey carried out by the FSD, half of the respondents working in the health and medical sciences do not even know whether their organisation has any instructions for preserving and opening data. According to the same survey, however, 32 percent of respondents would be willing to deposit their data, while 50 percent would at least consider it.
Katja Fält, FSD's other Research Specialist, approached data management from a humanities perspective. She noted that in the humanities, data are often diverse and cumulative, a fact which should encourage researchers to draw up data management plans.
Having said this, such plans, as well as the archiving and sharing of data, are not yet common practice in humanities either. In the researcher survey, 70% of the respondents representing humanities reported that data management plans were not an established practice in their field. According to Fält, it seems that a majority of the data is still stowed in researchers' computers or on their memory sticks.
Researcher pens office chair biography
What is...? Multi-sited ethnography: the case of an office chair
Virve Peteri, Researcher and Lecturer, University of Tampere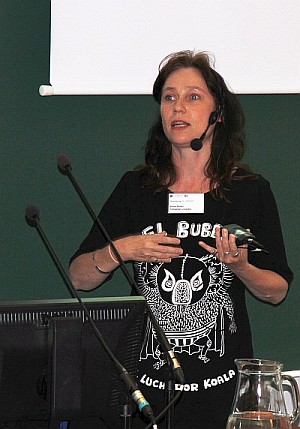 Virve Peteri has analysed the identity of an office chair in different contexts.
The Methods Festival's 'What is...?' sessions offered glimpses into a variety of analytical traditions and methods. Virve Peteri, a researcher and lecturer from the University of Tampere, proved that basic methodology can be extremely interesting and exciting when presented in the right way. In her own research, Peteri monitors and analyses the life of an office chair. This project, which is nearly five years old, is ongoing.
Multi-sited ethnography is based on the notion that research items are constantly moving and constantly changing, which means that they should only be examined in their respective contexts. Here, the subject – a person, object, linguistic metaphor or, say, a conflict – is followed through different sites.
Peteri herself decided to focus on an office chair, which at the start of the study only existed as a designer's drawing.
Interviews with the project team revealed that the chair was intended to become a forerunner of sorts, representing the company's vision of nomadic, multi-site work culture.
In her study, Peteri has looked at the identity of the chair and its gradual transformation in different physical and social contexts. She has followed the chair from project team meetings to trade fairs, the test laboratory and the launch ceremony. To comprehend the broader picture, Peteri has familiarised herself with, for example, design history and various office concepts.
A wide range of data and research sites have helped Peteri to provide different views of the phenomenon. She plans to cultivate her mass of data into a book to present her research and a perception of the chair's biography.
Methods Festival 2015
Held on 19 & 20 August at the University of Tampere
Organised every two years, alternately in Tampere and in Jyväskylä, by the University of Tampere Doctoral School and the Methodology Centre for Human Sciences of the University of Jyväskylä.
The 2015 festival was the fourth of its kind.
The programme included over 30 lectures and sessions tapping into various research methods. All events were held in the main building of the University of Tampere. The lecture material is available on the festival website.
FSD's Director Sami Borg was a member of the organising committee.