Article and photo: Kaisa Järvelä
Relevant Data from Aila for Many Fields of Study at TAMK
Tapio Yrjölä teaches research methods courses at the Tampere University of Applied Sciences, TAMK. He is convinced that students learn research methods much better if datasets used in the courses are related to students' own field of study. The Aila Data Service portal, provided by the Finnish Social Science Data Archive (FSD), gives access to rich data that can be downloaded online.
Most users of the Aila service study or work for universities but UAS students should also get acquainted with Aila, Data Management Guidelines and other services provided by the data archive.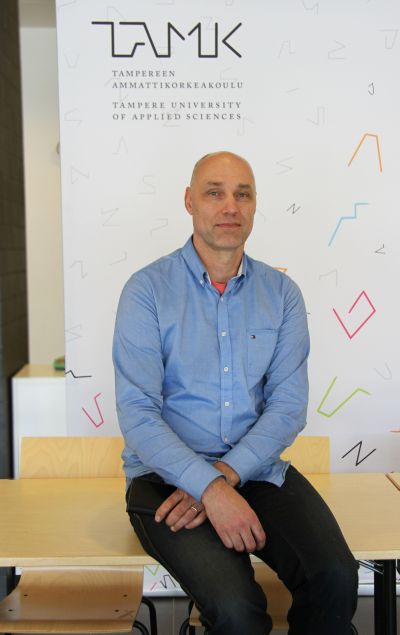 Tapio Yrjölä has used FSD data in his research methods courses for years.
Tapio Yrjölä is Senior Lecturer at Business Information Systems Programme at TAMK. He has used data archived at the FSD in his methodology courses for years.
He thinks that Aila Data Service, at present providing access to over 1,200 datasets, is a veritable treasure trove for teachers who hold research methods courses for students from different fields.
—A good dataset will help students to understand research methods concretely.
—When students can use data related to their own field, this has a positive impact on how interested they are in the course and how well they do during it.
Yrjölä has recently downloaded pertinent data for methodology courses held for students from Media and the Arts, Business Information Systems, and Health Care Engineering programmes.
For the business information systems course he used the dataset FSD2985 Internet Use of Finns 2013, for the health care engineering course FSD2711 Elderly People and Technology 2011, and for the media course FSD2914 Finnish Views on and Engagement in Culture and the Arts 2013.
—Students from the Media and the Arts Programme said they were particularly pleased to be able for once use data from their own field.
Aila used by students as well
In TAMK, research methods courses vary from one to five ECTS credit courses, depending on the field of study. Even on one credit courses Tapio Yrjölä uses actual data in addition to lectures, to make students apply theory to practice. On larger courses he may create practical exercises for data which requires students to apply research methods on their own.
On the longest courses, students are required to conduct a small research project. This requires that they have access to data that they can analyse applying suitable research methods and, for example, using the statistical analysis software SPSS.
—Usually, I make students collect data for their research themselves. We discuss web questionnaire design and implementation during the course, Yrjölä explains.
—However, it is not always possible for all students to collect data of their own. In that case, I've advised them to try and find suitable data from Aila.
Aila is a perfect solution for busy students because after registering with the service they can get access to research data with just a few clicks.
When listing the benefits of Aila, in addition to ease of access and varied topics, Yrjölä also mentions the fact that datasets tend to be fairly extensive.
—There are some tests that simply cannot be done with tiny datasets, he says.
Aila could be used more
Tapio Yrjölä thinks that even though FSD and Aila are useful tools for teaching methodology, TAMK teaching staff in general are not very familiar with them.
—I only know of one other teacher who, in addition to myself, has used FSD data in his teaching.
Cost-free, already existing data could be used more that they are at the moment, for instance, for Bachelor's theses.
—There are no barriers to using already existing data in a Bachelor's thesis at TAMK, provided the data in question are topical and their subject matter is relevant for the field, Yrjölä says.
FSD in a nutshell for universities of applied sciences
All FSD services are available for UAS students and staff, free of charge.
Aila Data Service contains a great variety of data that can be used for teaching or study.
Use of Aila data is free of charge, but for most datasets, download requires registration with the service. Registration is quick and easy. You can register with the username given to you by your university (Haka registration).
If your Bachelor's thesis is based on data obtained from Aila, you need to report its publication to the FSD.
If you have collected digital data for your thesis, you can offer it to be archived at the FSD. Sometimes even small datasets are archived.
Data Management Guidelines contain useful tips on how to create and manage your data.
There is more information on the FSD on our website or you can contact our User Services.
» Read how a TAMK student used Aila!
-TAMK Student Finds Aila Data Helpful for Course Work and Own Research.