New look for the Data Management Guidelines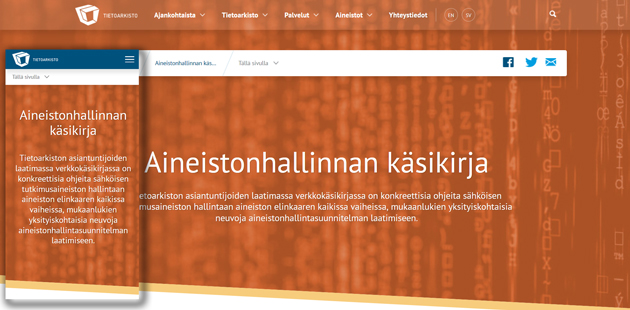 The Data Management Guidelines is one of FSD's most popular services. It has now a new look and feel as part of FSDs main website.
The new look is similar to the main site but differs from it in its color scheme. The main goal of the change has been to assure that the Guidelines are easily readable on mobile devices and generally accessible to all user groups. The content of each chapter is presented at the very beginning of the page. It is also possible to jump directly from one subtitle to another. A link to each section can be easily saved to clipboard using the new anchor tool.
The structure of the Guidelines has not been modified. Redirects ensure that all users following links to the Guidelines find the content that they were looking for. Should any errors surface, please report them to support.fsd at tuni.fi.
The Data Management Guidelines is an online handbook created by FSD. It is published both in Finnish and English. It provides concrete and up-to-date guidance on the management of digital research data during the whole lifecycle of the data.