FSD - an Active Service Provider for CESSDA ERIC
Building New European Services for Researchers
Six years ago, the Academy of Finland awarded the Finnish Social Science Data Archive a five-year funding for fulfilling Finland's membership obligations in CESSDA ERIC (which was then still a forthcoming ERIC). Partly due to the delays caused by the Covid-19 pandemic, we were granted an additional year to finalise the project. It is now a good time to look back at what was planned and what our experts have accomplished in the project.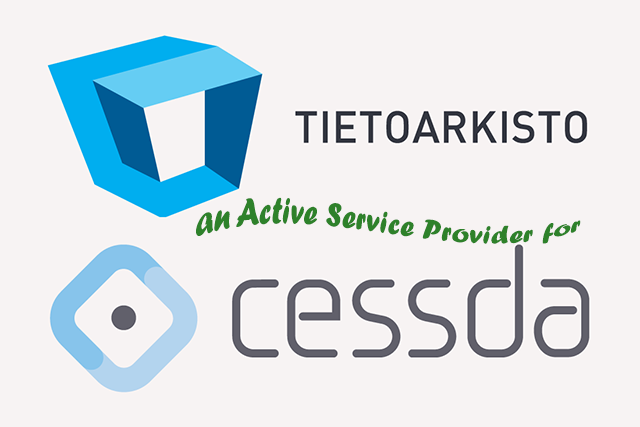 The project's Action Plan also included objectives for which we did not apply funding. In this way, we were able to present the entire set of responsibilities that a CESSDA Service Provider must take on to fulfil its tasks. In addition, some tasks were excluded from the grant application during the evaluation and negotiations with the Academy. Nevertheless, we have been able to deliver on all the Key Functions (the term used for work packages in the Action Plan), if not carry out everything that was initially planned. We have found great synergies between this project and the projects we have been involved in within the CESSDA community and European Union Horizon projects.
Our initial Action Plan included the following ten Key Functions that we planned to work on during the project:
Participation in CESSDA Administration and Networking
To be a proactive partner in the development of CESSDA and seek prominent positions in CESSDA's internal tenders and externally funded projects.
Impact on Policies
To participate in CESSDAs activities in both political and practical level and to advance the interests of the Finnish research community.
Capacity and Competence in IT Services
To ensure that FSD's IT Services and infrastructure and development methodology comply with CESSDA Technical Framework requirements for participating in CESSDA IT projects.
EU Data Protection Regulation
To implement appropriate technical and organisational measures and appropriate data protection policies to be able to demonstrate compliance with the GDPR.
Certification and Trust Work
To fulfil the obligation set by CESSDA that the SPs are certified against the Data Seal of Approval (later CoreTrustSeal).
Metadata Enhancement
To implement the CESSDA Metadata Portfolio requirements by significantly amending and upgrading FSD's study-level metadata.
Upgrade of Persistent Identifiers
To develop FSD's versioning and PID policy to meet the CESSDA requirements and put the new policy into operation in all our datasets.
Euro Question Bank
To provide expertise and question level data for testing the development of Euro Question Bank, a search facility providing an access to questions used in surveys.
Training
To provide mentor support for countries with immature national infrastructures and help researchers who need support on data management and opening.
Communications
To increase dissemination in English and provide more information about FSD's and CESSDA's services to non-Finnish speaking researchers and students.
Main part of the funding was aimed at building capacity and competence in FSD's IT services, enhancing metadata, and preparing for EU Data Protection Regulation. Some of the outputs have been communicated to our users and beneficiaries earlier, mainly in Finnish. Some have not been reported before, regardless of the importance of the work done. For example, IT development and metadata enhancement are essential to a distributed data infrastructure, where the goal is to be technologically interoperable and to make data FAIR, i.e., findable, accessible, interoperable, and reusable.
In the coming months, we will publish short articles explaining in more detail what we have accomplished. Suffice to say at this point that we were quite bold in our plans to build high quality and user-friendly European Services for Researchers, aiming to be connected to and through CESSDA ERIC with the wider data infrastructure. It is easy to conclude at this point that this was a realistic and achievable goal and FSD services are now connected not only to CESSDA ERIC but to EOSC as well.
This article will be updated with links to new articles when they are published.
KF3 Capacity and competence in IT Services
Article: Building capacity and ensuring competence in FSD's IT Services
FSD's software development methodology has been updated under the task "Aligning FSD's IT to CESSDA service development practices". This meant introducing modern development methods and tools so that application development would be consistent with CESSDA's development environment. It also improved the way processes are managed in FSD's technical services. Another task was related to "Building resilience and interoperability to FSD's IT systems". The outcomes are practically invisible to outsiders, but yet in many ways necessary for carrying out the daily data curation work.
Text: Helena Laaksonen. Illustration: Tuomas J. Alaterä.