The second year of COVID-19 saw another upsurge in data use: top spot claimed by datasets freely available under the CC BY 4.0 license
FSD services were widely used during the pandemic. In 2021, users downloaded datasets from Aila Data Service more than ever before. The largest increase was seen in the use of data freely available under the CC BY 4.0 license. FSD also archived and processed more datasets in 2021 than in 2020, and the number of registered users continued to grow.
In January 2020, all datasets archived at FSD according to access condition A were made available under the Creative Commons BY 4.0 (CC BY 4.0) license. The change proved to be a great success. In 2021, 1,851 freely available datasets were downloaded, compared to 827 downloads in 2020.
Datasets were widely used by registered users in Finnish higher education institutions. The most data were downloaded at Tampere University (22%) and the Universities of Helsinki (11%), Jyväskylä (10%), Turku (9%) and Eastern Finland (9%). Five percent of the dataset downloads came from registered users abroad (2020: 7%), and 15% of the datasets were downloaded from the English data catalogue of Aila.
Last year, data downloads saw an impressive increase of 53 percent from 2020. In total, FSD processed 4,093 access applications in 2021 (2020: 2,598). 4,503 datasets were delivered for reuse (2020: 2,947), of which 75% were quantitative (2020: 78%) and 25% qualitative (2020: 22%). All in all, between 2014 and 2021, approximately 21,100 datasets have been downloaded from Aila.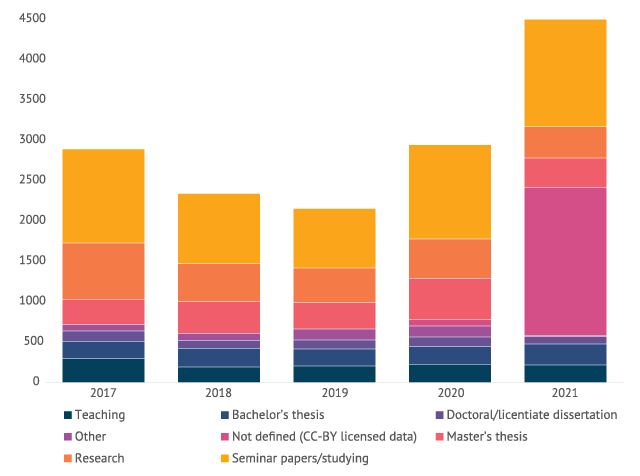 Qualitative research data increasingly used for study purposes
Users downloaded datasets most actively in January and September. Several monthly download records were broken in 2021. 30% of the downloaded datasets were used for seminar papers and other study purposes. Additionally, datasets were distributed for theses, such as Bachelor's, Master's and Doctoral theses (in total 16%), other research (9%), and teaching (5%). Compared to 2020, the use of qualitative datasets for seminar papers and Bachelor's theses doubled in 2021.
The most popular dataset in 2021 was FSD3217 European Social Survey 2016: Finnish Data (Opens in a new tab) , which studied views on climate change, energy security and well-being. Of the datasets published in 2021, the most downloaded datasets were FSD3476 Media Use of Young Adults 2019 (Opens in a new tab) and FSD3497 Child Barometer 2020 (Opens in a new tab) .
Continued upward trend in the number of archived datasets and registered users
FSD's data repository gained 114 new datasets in 2021 (2020: 98). 103 new datasets were published on Aila (2020: 91): 75 quantitative datasets (2020: 65) and 28 qualitative datasets (2020: 26). At the end of 2021, Aila contained a total of 1,686 datasets, of which 1,404 were quantitative and 282 qualitative.
14 openly accessible datasets were published on Aila Data Service in 2021. By the end of the year, a total of 107 openly accessible datasets were available for download.
Datasets (A) freely available under the CC BY 4.0 license were popular last year (41% of downloads), along with datasets available for (B) research, teaching and study (55% of downloads). Of all datasets on Aila, datasets with access condition (B) account for 74 percent, whereas datasets with access condition (A) account for 6 percent.
In 2021, 1,452 unique registered users downloaded data from Aila (2020: 1,076). Overall, there were 3,556 registered Aila users at the end of 2021 (2020: 2,824).
The overall use of the FSD website also reached a new high in 2021. Some changes were made regarding the statistical method used for recording the overall use of the website, and the statistics are no longer strictly comparable to previous years. However, the number of site requests increased by at least 15 percent compared to 2020. The new Research Methods Web Resource (MOTV) grew the most in popularity. The number of site requests was also high for the Finnish Party Agenda Database (Pohtiva) service.
You can learn more about data use rates and other FSD operations in the annual report published online later this spring (in Finnish).